Fierce Contest Sees Ugandan Opposition Get New Leader
At the end of the February 2016 elections, Patrick Amuriat Oboi was down, having lost his parliamentary seat. At only 54, though, he was not yet out. But very few would have expected him to get up so fast, writes Derric Wandera in the Daily Monitor. Amuriat has been declared new president of the opposition Forum for Democratic Change.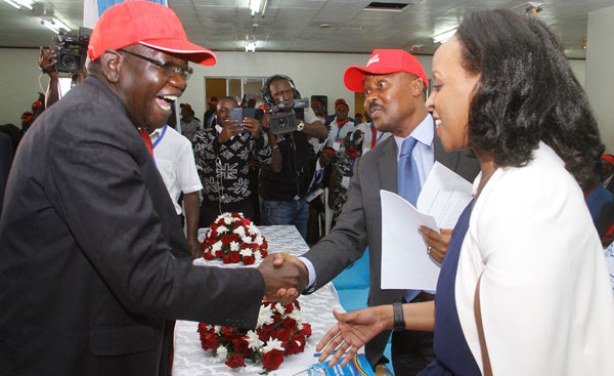 FDC president-elect Patrick Amuriat, left, is congratulated by the outgoing party president Mugisha Muntu, second right, and his wife Julia Kakonge after the party elections at Namboole in Wakiso District on Friday.
Mugisha Muntu campaigning during the delegate's conference at the Mandela National Stadium, Namboole.

Patrick Amuriat, centre, being led to the podium by supporters at Namboole.
Uganda: Muntu Versus Amuriat - The Battle That Shouldn't Have Been Fought

Independent (Kampala), 27 November 2017

"I bring to this race 25 solid years of political activism; I bring new energy that is currently lacking in the party. And I belong to the ideology of defiance." Read more »

Uganda: Defeated Muntu Keeps FDC Guessing

Monitor, 26 November 2017

Smarting from a crushing defeat, out-going FDC president, Maj Gen Mugisha Muntu kept his cards close to his chest and only promised to reveal his next course of action in a "few… Read more »

Uganda: Muntu - There Was a Considerable Amount of Distrust in Me

Independent (Kampala), 25 November 2017

Rtd Maj Gen Mugisha Muntu has conceded defeat after Friday's Forum for Democratic Change (FDC) presidential election, but blamed distrust by many members for his failure to retain… Read more »

Uganda: What Next for Muntu, FDC Leadership in Parliament?

Observer, 27 November 2017

BAKER BATTE LULE assesses the tricky road ahead for outgoing FDC president and how Patrick Amuriat's presidency may impact key positions of the party leadership in parliament. Read more »

Uganda: How Besigye Factor Led to Muntu's Loss

Observer, 27 November 2017

When Forum for Democratic Change (FDC) delegates on Friday night dropped Maj Gen Mugisha Muntu as party president in favour of Patrick Oboi Amuriat a.k.a POA, the former Kumi… Read more »

Uganda: Explosive Speech That Cost Muntu the FDC Presidency

Observer, 27 November 2017

On Friday FDC delegates gathered at the Mandela National Stadium in Namboole to elect their new party president and when the last vote was counted, GEN MUGISHA MUNTU was no longer… Read more »

Uganda: FDC Leadership Election - The Speeches

Monitor, 27 November 2017

Mr Patrick Oboi Amuriat (POA) Read more »

Uganda: Amuriat Defeats Gen Muntu to Become New FDC President

Monitor, 25 November 2017

Mr Patrick Oboi Amuriat has been announced as the new president of the Opposition Forum for Democratic Change (FDC) after defeating party leader Gen Mugisha Muntu. Read more »

Uganda: Patrick Oboi Amuriat Is FDC President

Independent (Kampala), 25 November 2017

FDC Provisional results Read more »

Uganda: Patrick Amuriat Wins FDC Party Presidency

Observer, 25 November 2017

Former Kumi Member of Parliament, Patrick Oboi Amuriat has defeated Gen Mugisha Muntu, the incumbent in the race for the Forum for Democratic Change (FDC) presidency. Read more »

Uganda: Congratulations Forum Democratic Change

Monitor, 26 November 2017

Forum for Democratic Change (FDC) party on Friday got its third president when Patrick Amuriat Oboi beat Maj Gen Mugisha Muntu at Namboole stadium. Read more »
InFocus
As delegates of the opposition Forum for Democratic Change convene to decide on their next president, the choice appears to be between internal institutional building and ... Read more »