Namibian President Emerges Victorious in Battle for Swapo Throne
The 6th Swapo Congress ended on Sunday with voting to select the party's central committee. The top four party leadership posts were won by the #TeamHarambee slate led by President Hage Geingob, who is serving his first term as Namibia's third president. Former presidents Sam Nujoma and Hifikepunye Pohamba took part in the five-day meeting, attended by some 766 delegates and observers.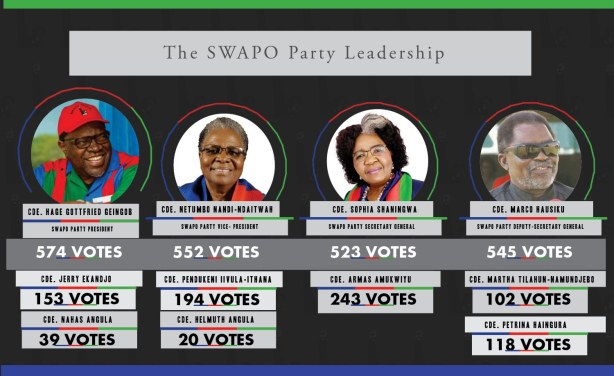 The #TeamHarambee slate led by Namibian President Hagre Geingob emerged victorious in the elections during the Congress of ruling party Swapo. .
Video
Publisher:

The Namibian

Publication Date:

27 November 2017
Namibia: Delay Prolongs Anxious Wait At Congress

New Era, 27 November 2017

Voting at the Swapo elective congress yesterday started just before 17h00, when the party had initially planned to announce the results at that very hour during the closing… Read more »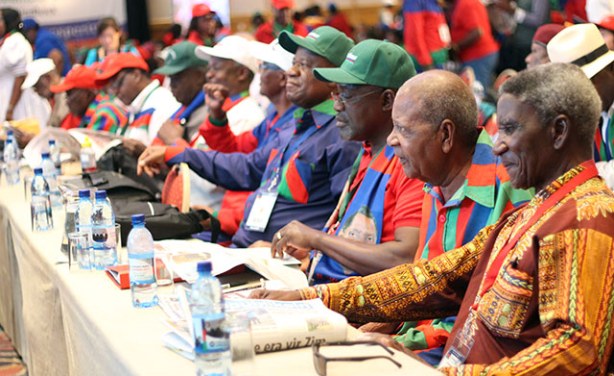 Swapo congress.
Namibia: Swapo Scores Itself High

Namibian, 27 November 2017

ALTHOUGH the ruling Swapo Party says the implementation of the resolutions passed at the 2012 congress are "impressive", a report presented at the just-ended congress was vague on… Read more »

Namibia: How the Swapo Cc Is Made Up

Namibian, 26 November 2017

THE famous Swapo 'pot' is cooking and only a few from the 700-odd delegates will come out of it alive. Read more »

Namibia: Analyst Predicts Tough Race for Swapo Presidency

Namibian, 26 November 2017

POLITICAL commentator Nico Horn has predicted a tough contest for the party president position during the elections currently underway at the 6th Swapo congress. Read more »

Namibia: Ruling Party Swapo Claims 84% Implementation Rate

Namibian, 25 November 2017

A statement issued by Swapo said 84% of decisions taken at the 2012 congress were implemented. Read more »

Namibia: Geingob Denies Disunity

Namibian, 24 November 2017

SWAPO is united and has not changed, despite the seeming divisions in the campaigns during the run-up to the party's sixth elective congress, President Hage Geingob said yesterday. Read more »

Namibia: Swapo Remains Strong, United and Stable - President Geingob

allAfrica, 23 November 2017

Comrade Sam Shafiishuna Nujoma, Founding President of the SWAPO Party and Father of the Namibian Nation;Comrade Hifikepunye Pohamba, Former President of the SWAPO Party and the… Read more »

Namibia: Candidates for Swapo's Top-Four Positions At 2017 Party Congress

New Era, 23 November 2017

Name: Hage Geingob Read more »
InFocus
The Swapo party congress has begun under the theme 'unity, inclusivity and prosperity' with an address by President Hage Geingob calling on members to bury personal differences and ... Read more »