South Sudan Peace Talks Pushed to 2018
The Intergovernmental Authority on Development charged with finding a lasting solution to the country's conflict says talks to restore peace before the scheduled elections in 2018 has been pushed to early next year, but informal consultations continue.
South Sudan: Opposition Politicians, Activists Embrace 'Troika' Statement

VOA, 5 December 2017

South Sudanese activists and opposition politicians say they welcome the decision by the United States, the United Kingdom and Norway to support a revitalization forum on South… Read more »

Libya: EU, AU, UN in Joint Bid to Rescue Enslaved Migrants

East African, 2 December 2017

The United Nations, African Union and the European Union have agreed to set up a joint task force to rescue African refugees from slavery in Libya. Read more »

South Sudan: Troika - Warring Parties Must End Hostilities Ahead of Revitalization Forum

VOA, 4 December 2017

Members of the "Troika" (Norway, United Kingdom and United States) released a statement Thursday saying all parties in South Sudan must end hostilities as a sign of their… Read more »

South Sudan: Peace Talks Pushed to 2018, Before Polls

East African, 26 November 2017

Implementation of the three-pronged approach to restore peace in South Sudan before the 2018 scheduled elections has been pushed to early next year. However, informal consultations… Read more »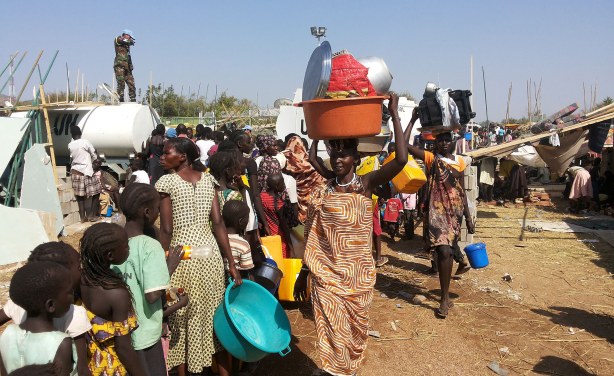 Civilians displaced by fighting at a United Nations facility on the outskirts of Juba. Up to 13,000 civilians have sought refuge at UN compounds.
InFocus
The Inter-Governmental Authority on Development have confirmed that rebel leader, Riek Machar, will not be attending the upcoming high-level peace meeting but will have a ... Read more »