Support for Uganda's Age Limit Bill Falling - Security Report
Ruling party leaders are understood to be studying a report compiled for President Yoweri Museveni which gauges the NRM's chances of passing the age limit bill in Parliament. Insiders have told The Observer that intelligence services were instructed to poll NRM MPs to establish the level of support for the bill, which seeks to amend constitutional age limits for presidential eligibility.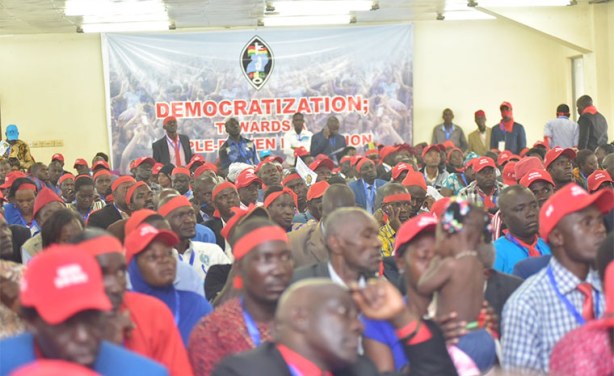 Forum for Democratic Change delegates donning red ribbons and caps over the weekend ahead of elections for party president. Red ribbons are a national symbol against the age limit amendment.
Uganda: Museveni Is Panicking Over Age Limit Change, Say MPs

Independent (Kampala), 13 November 2017

With opposition politicians currently traversing the country chanting 'Togikwatako'- the brand of the resistance to the constitutional amendment aimed at removing the presidential… Read more »

Uganda: After Mugabe, All Eyes Are On Museveni - How Long Can He Cling to Power?

The Conversation Africa, 22 November 2017

On 21 November, Zimbabwean president Robert Mugabe resigned as president under intense pressure from the military, his own party, and mass protests. The news was celebrated on the… Read more »

Uganda: Uganda Faces Political Crisis Over Museveni Succession - ICG

East African, 25 November 2017

Uganda's political climate, characterised by growing discontent over President Yoweri Museveni's apparent desire to change the Constitution and remain in power, risks plunging the… Read more »

Uganda: Museveni and the Army: Failing to Learn from Past Mistakes?

Independent (Kampala), 27 November 2017

If a position is operationally strategic, President Yoweri Museveni will appoint a soldier to it. If a job is critical to his survival in power, Museveni will appoint a soldier to… Read more »

Uganda: If Power Belongs to People, Why Are MPs Silent On Recall Law?

Observer, 27 November 2017

Have you noticed that the Constitution has become a National Resistance Movement (NRM) constitution at best and its policy paper at worst! Read more »

Uganda: Age Limit - Legal Committee Set to Endorse Bill

Observer, 24 November 2017

A critical assessment of witnesses who appeared before the Legal and Parliamentary Affairs committee to give views on the age limit bill shows a slight majority want the 75-year… Read more »
InFocus
Growing discontent threatens the dysfunctional and corrupt political system built by President Museveni, who is now manoeuvering to extend his three decades in power by raising a ... Read more »

Retired Major-General Benon Biraaro, who helped bring President Yoweri Museveni into power in 1986, says Uganda will have a new president in 2021. Weighing in on the age limit bill ... Read more »