Tanzanian Voters Elect Councillors in 43 Wards
The ruling party CCM has emerged victorious in the by-elections which took place in 43 wards across the country on Sunday to elect ward councillors for positions that were left vacant.
Tanzania: CCM Basks in Glory As Act Concedes Defeat

Citizen, 28 November 2017

While Chama Cha Mapinduzi (CCM) yesterday revealed the secret of its landslide victory in the just concluded council by-election in 43 wards, ACT Wazalendo conceded defeat. Read more »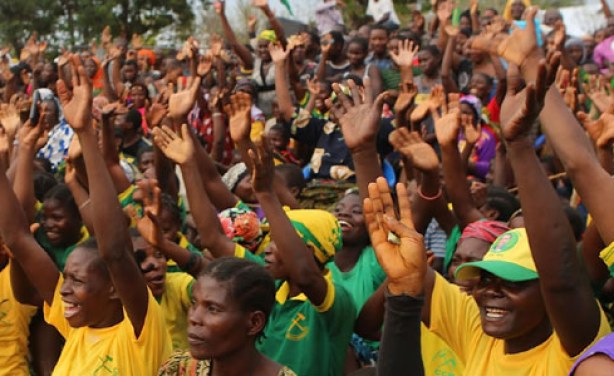 Ruling party CCM wins by-elections.
Tanzania: Landslide Victory As CCM Scoops Almost All Wards

Daily News, 28 November 2017

CHAMA Cha Mapinduzi (CCM) has emerged with landslide victory in the Sunday byelections, winning all the 43 except one ward. Read more »

Tanzania: How CCM Wins Landslide in Council By-Election

Citizen, 27 November 2017

CCM has won a landslide in council by-election held in 43 wards across the country. The following are part of the results declared by the authorities in respective wards and… Read more »

Tanzania: CCM Now Extends Power to Chadema Strongholds

Citizen, 27 November 2017

The ruling Chama Cha Mapinduzi (CCM) on November 27, 2017 emerged victorious in the council by-election in all eight wards contested in Arusha Region. Read more »

Tanzania: Food for Thought - CCM Wins Wards At Mbowe's Home

Citizen, 27 November 2017

Chama Cha Mapinduzi (CCM) has sent a warning message to Chadema after emerging victorious in three wards in Hai District, Kilimanjaro Region. Read more »

Tanzania: Poll Results Start to Trickle in As Chadema Cries Foul

Citizen, 27 November 2017

Chadema yesterday announced that it had ordered its candidates vying councillorship by-elections in five wards to withdraw, arguing that procedures were highly flouted. Read more »

Tanzania: Voters to Elect Councillors in 43 Wards

Citizen, 26 November 2017

Voters in 43 wards are expected to cast their ballots today - Sunday, November 26 - to elect Ward Councilors to fill positions that were left vacant for some reason or other by… Read more »

Tanzania: Calm As Voters Decide On Their Next Councilor in Mbeya

Citizen, 26 November 2017

It was all calm as voters turned up to elect their new councilor for Ibighi Ward in Rungwe District, Mbeya Region on Sunday, November 26. Read more »

Tanzania: Few Voters Turn Up in Mbweni Ward to Elect a Councilor

Citizen, 26 November 2017

In the early hours of Sunday, November 26, only a few voters could be spotted at polling stations in Mbweni Ward, Kinondoni District, with the presence of a tight security being… Read more »

Tanzania: CCM Candidate for Iringa Councillorship Seat Impressed By Voting Progress

Citizen, 26 November 2017

Ruling CCM's candidate vying for Kitwiru Ward seat Baraka Kimata has expressed his satisfaction on Sunday, November 26, at how the by-election opened saying all had gone as per… Read more »

Tanzania: Journalists Barred From Covering Voting in Kijichi Ward

Citizen, 26 November 2017

Journalists found themselves facing a hard time in Kijichi Ward on Sunday, November 26, where election authorities barred them from performing their duty of reporting on the poll… Read more »

Tanzania: Rain, Prayers Affect Number of Voters At Polling Stations in Geita, Mwanza

Citizen, 26 November 2017

By-election started at a low pace in Senga Ward, Geit Region, and in Mhandu Ward in Mwanza Region as only a small number of voters came out. Read more »

Tanzania: A-Z On Councillorship By-Elections Today

Citizen, 26 November 2017

Elections Are Taking Place in 43 Wards Across the Country Today. the Wards Were Declared Vacant After Some Councillors Defected to Rival Political Parties From Those On Whose… Read more »