U.S. Denies Allegations of Civilian Deaths in Somali Raid
The statement came after an American news website, The Daily Beast, reported that U.S. Navy Seals fired at unarmed farmers in August and took pictures with weapons falsely planted beside their bodies to appear as though they were armed.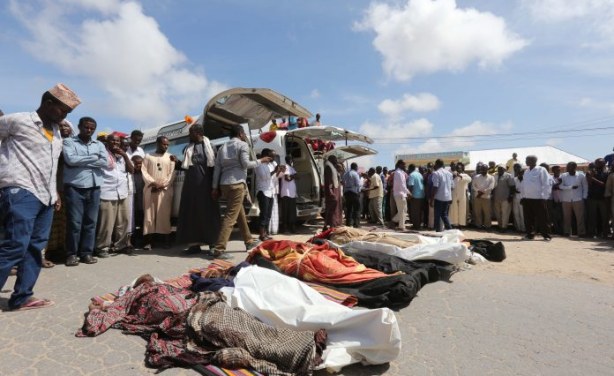 Civilians killed by U.S. and Somali forces (file photo).
Somalia: U.S. Denies Civilian Deaths in Barire Airstrikes

Dalsan Radio, 30 November 2017

U.S. on Thursday denied any civlian casualties in the August 25 airstrike that it said had targeted Alshabaab militants in Barire Somalia. In a statement the US Afrocom said that… Read more »

Somalia: U.S. Raid Kills Top Islamic State Commander in Somalia, Says Minister

Shabelle, 29 November 2017

A Somali Minister says a U.S. airstrike killed a top Islamic State commander in northeastern Somalia on Monday. Read more »

Somalia: Al-Shabaab Militants Kill 2 Police Officers in Coastal Kenya

Shabelle, 29 November 2017

Somali militant group Al-Shabaab on Tuesday killed two police officers and injured two others in Kenya's coastal town of Lamu in its latest attack in the tourism resort region. Read more »

Somalia: An Airstrike Hits Al Shabaab Stronghold Area in Somalia

Shabelle, 29 November 2017

Reports reaching at Radio Shabelle's news desk from Lower Shabelle region indicate that an airstrike struck an Al Shabaab base in the town of Toratorow on Wednesday afternoon. Read more »

Somalia: Al Shabaab Retakes Town in Central Somalia

Shabelle, 29 November 2017

Heavily armed Al Shabaab fighters mounted in battle wagons wrested control of a strategic town in Hiiraan region, central Somalia from Ethiopia's Liyu Police forces on Wednesday.… Read more »

Somalia: Govt Forces Ambush Al Shabaab Bases Near Qoryoley Town

Shabelle, 30 November 2017

A Somali Police officer says government forces have launched an overnight assault against Al Shabaab bases on the outskirts of Qoryoley district in Lower Shabelle region.… Read more »

Somalia: Three Wounded in a Fresh Airstrike On Al Shabaab Camp

Shabelle, 30 November 2017

At least three people were reported to have been wounded in a fresh airstrike on Al Shabaab-held town in Southern Somalia on Wednesday night, residents said. Read more »

Somalia: Top Islamic State Commander in Somalia Killed in U.S. Airstrike

Dalsan Radio, 29 November 2017

Somalia government has identified the militant killed in the Monday IS airstrike as a top pro Islamic State commander. In a statement issued via Twitter by the Information Minister… Read more »