21 Dead As Govt Truck Overturns in Zimbabwe
At least 21 people were killed when a truck overturned at a business centre in the district of Tsholotsho. Traffic accidents are common in Zimbabwe, where roads are riddled with potholes due to years of underfunding and neglect.
Zimbabwe: Govt Releases Funds for Accident Victims

The Herald, 5 December 2017

Government has released funds for the 21 deceased and 48 people who were injured in a road traffic accident in Tsholotsho on Saturday. A team of 69 health workers was involved in… Read more »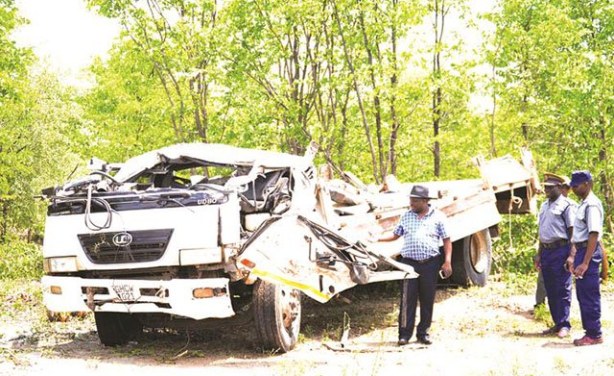 Preliminary reports suggest that the driver was drunk and speeding.
Zimbabwe: 21 Dead As Govt Truck Overturns

New Zimbabwe, 4 December 2017

Preliminary reports suggest that the driver of a truck which overturned killing 21 people in Tsholotsho Saturday was drunk and speeding, the minister of health has revealed. Read more »

Zimbabwe: Crash Claims 21, Declared State of National Disaster

The Herald, 4 December 2017

Twenty one health workers died, while 48 others were injured, when a Matabeleland North Provincial Malaria Control Vehicle they were travelling in failed to negotiate a curve and… Read more »