Advice Comes Thick and Fast for Nigeria Ahead of World Cup 2018
While Super Eagles coach Gernot Rohr has identified the match against Croatia as the toughest his wards will play at the Russia 2018 World Cup, the team has received caution from various quarters on how to avoid the pitfalls in order to reach the finals.
Nigeria: Eagles Line Up World Cup Friendly Match With Poland

Guardian, 11 December 2017

Super Eagles Manager, Gernot Rohr has revealed that Nigeria will be involved in a pre-World Cup friendly against Poland on March 23, 2018, reports soccernet.com.ng. Read more »

Nigeria: Enyeama, Martins' Eagles Return Decision Up to Rohr - Lawal

Daily Trust, 5 December 2017

A former Super Eagles left back Garba Lawal told Daily Trust in a chat that the speculated return of experienced players Vincent Enyeama and Obafemi Martins to the national team… Read more »

Nigeria: Crespo Wants Messi, Dybala Attack Against Eagles

Guardian, 5 December 2017

- Ardiles not convinced by albiceleste's defence Read more »

Nigeria: Success At CAF's Awards Good Psychologically for Eagles' Campaign in Russia, Says Esin

Guardian, 5 December 2017

Former international star, Etim Esin has described Super Eagles' nomination in the National Team category of the yearly CAF Awards as good for the team's confidence going into the… Read more »

Nigeria: Croatia FA Boss, Suker, Coach Zlatko Plot Nigeria's Fall in Russia

Guardian, 5 December 2017

Croatia's Football Association President, Davor Suker has pledged total support to national team coach, Zlatko Dalic, to ensure the team met or surpassed the country's third place… Read more »

Nigeria: NFF Wants Friendly Games With Serbia, Denmark

Guardian, 5 December 2017

The Nigeria Football Federation (NFF) is working to secure friendly matches for the Super Eagles against Denmark and Serbia, an official of the federation has revealed. Read more »

Nigeria: Fashanu Warns Nigeria, Places 'Bogey' Tag On Iceland

This Day, 4 December 2017

Former Wimbledon striker, John Fashanu has issued a chilling warning to Nigeria as the countdown to next year's World Cup begins to gather pace. Read more »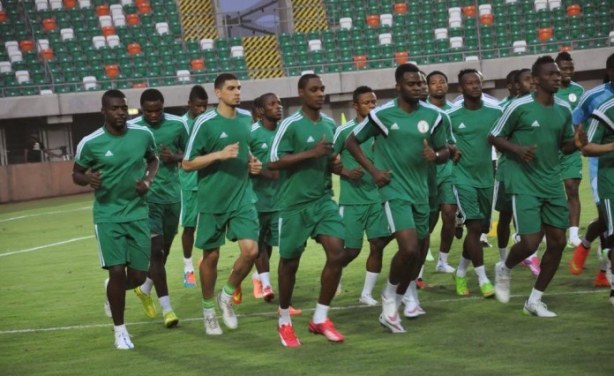 Nigeria's senior soccer team - The Super Eagles (file photo).
Nigeria: Rohr - Match Against Croatia the Toughest for Eagles

This Day, 3 December 2017

Super Eagles coach Gernot Rohr has identified the match against Croatia as the toughest his wards will play at the Russia 2018 World Cup. Apart from Croatia, Nigeria have also been… Read more »

Nigeria: Onyekuru Fires Argentina, Croatia Warning

Vanguard, 4 December 2017

Super Eagles striker, Henry Onyekuru has again shown why he is attracting interest from top clubs across the world as he was yet again the match-winner for Belgian champions… Read more »

Nigeria: Eagles Must Avoid 1994 Mistake - Okpalla

Vanguard, 3 December 2017

Former Super Eagles assistant coach, Sylvanus Okpalla is confident that, with the right attitude, the current Super Eagles squad could take the world by storm at the 2018 FIFA… Read more »

Nigeria: Russia 2018 WC - Don't Pick Players On Sentiments, INRI Primate Warns Rohr

Vanguard, 3 December 2017

Primate of the INRI Evangelical and Spiritual Church, Oke Affa, Isolo, Lagos, Babatunde Elijah Ayodele has predicted a memorable World Cup outting for Nigeria once the best players… Read more »

Nigeria: Super Eagles at the World Cup - the History

Daily Trust, 1 December 2017

The Super Eagles of Nigeria will battle Argentina, Croatia and Iceland in Group D of the 2018 FIFA World Cup in Russia. Read more »

Nigeria: Russia 2018 WC - Eagles'll Be Surprise Team of Group D, Says Rohr

Vanguard, 3 December 2017

Super Eagles coach, Gernot Rohr has acknowledged that his team face a difficult task in Group D of the 2018 FIFA World Cup, following the Draw on Friday, but he has assured that… Read more »

Nigeria: Onigbinde Sees Eagles Progressing to Final

Vanguard, 3 December 2017

Former Super Eagles coach, Adegboye Onigbinde has backed the national team to reach the final of the 2018 FIFA World Cup in Russia. Read more »

Nigeria: Super Eagles to 'Make a Statement At Russia 2018 World Cup'

Vanguard, 3 December 2017

Solomon Dalung, the Minister of Youths and Sports, says Nigeria is prepared to make a statement at Russia 2018, adding that Friday's draw was a decent one. Read more »

Nigeria: Russia 2018 - Five Players Who Can 'Gatecrash' the Super Eagles Squad

Premium Times, 2 December 2017

In football, they say it is not over until the fat lady sings. For some prospective players who are still eyeing a place in the Russia-bound Super Eagles squad, the national team… Read more »
InFocus
Alex Iwobi scored twice as Nigeria stunned Argentina by recovering from two goals down to win 4-2 in Krasnodar, Russia. Read more »

Super Eagles team manager Yusuf Salisu has given the assurance that the players are ready for a tough adventure when the group stage draw of the 2018 FIFA World Cup is made. On ... Read more »