Army General Chiwenga to be Named Zimbabwe Vice President?
Zimbabwe Defence Forces Commander, General Constantino Chiwenga, is reportedly earmarked for one of the country's two deputy president posts ahead of Zanu-PF's extraordinary congress. Chiwenga was widely believed to have orchestrated the military takeover which resulted in former president Robert Mugabe resigning after 37 years in power.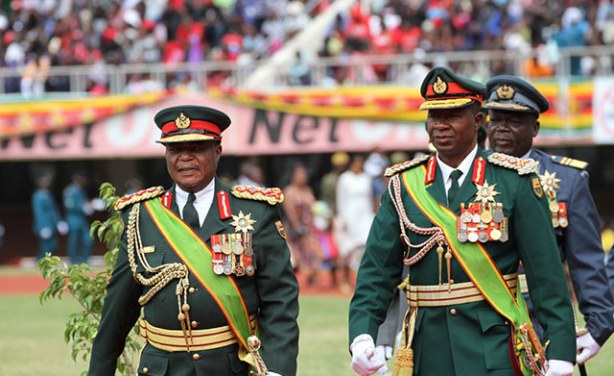 Zimbabwe service chiefs (file photo).
Zimbabwe: Army Generals in Cabinet Must Quit the Military - Opposition

New Zimbabwe, 4 December 2017

Opposition alliance CODE has vowed to push for the retirement from the military of two Generals who were recently appointed to cabinet by President Emmerson Mnangagwa. Read more »

Zimbabwe: Church Leader Says Mnangagwa Must Serve Only One Term

New Zimbabwe, 5 December 2017

A church leader said he was praying that if President Emerson Mnangangwa (75) happens to be elected in the forthcoming general election he could serve for only one term. Read more »

Zimbabwe: War Vets Leader Mutsvangwa Says He Was Anointed By Army

New Zimbabwe, 5 December 2017

The Zimbabwe National Liberation War Veterans Association leader and special advisor to the President, Christopher Mutsvangwa, said he was anointed by the military to become the… Read more »

Zimbabwe: Mugabe Crumbles - but It's Too Soon to Celebrate

Democracy Works, 19 November 2017

It seemed that Robert Mugabe, the 93-year-old Zimbabwean president, would rule his country until he died - but in the end, his fall was very swift. Mugabe's decision to depose… Read more »

Zimbabwe: My First 10 Days Have Been Hectic - Mnangagwa

263Chat, 4 December 2017

President Emmerson Mnangagwa has hinted that his first 10 days in office have been tough and hectic while conceding that his team of cabinet ministers will stand the challenge of… Read more »

Zimbabwe: I Have Confidence in My Team, Says Mnangagwa

The Source, 4 December 2017

Zimbabwe's new President Emmerson Mnangagwa on Monday swore in his 22-member Cabinet, saying he has confidence in its ability to deliver and turnaround the economy. Read more »