Families Grieve After Kenyan Artists Die in Crash
The Kamua Artistes, a band that produces and performs Kalenjin songs, lost five of its members in the crash that claimed the lives of seven people along the Nakuru-Eldoret highway. The accident happened barely 72-hours after Deputy President William Ruto's wife led cleansing prayers at the Salgaa-Sachangwan stretch along the highway, ahead of the festive season.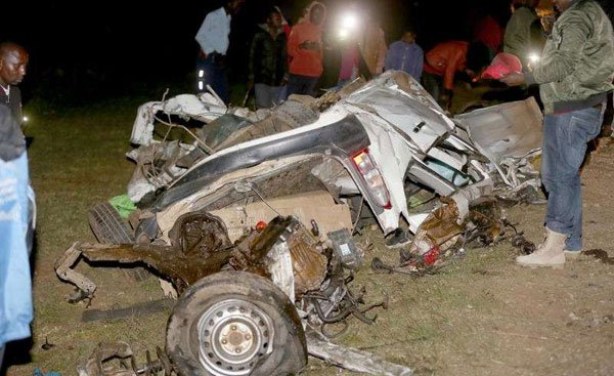 The wreckage of the car that collided with a truck on Saturday at Kamara on the Nakuru-Eldoret highway.
Kenya: Seven Musicians Perish in Nakuru-Eldoret Highway Accident

Nairobi News, 10 December 2017

Seven people perished in a grisly road accident along the Nakuru-Eldoret highway on Saturday night. Read more »

Kenya: Seven Artistes Die After Car Collides Head on With Truck

Nation, 10 December 2017

Seven musicians who included five men and two women have perished in a grisly road crash after their Toyota Probox vehicle collided head on with a truck at Kamara along the… Read more »

Kenya: Artiste, Troupe Killed in Saturday Night Collision on Nakuru-Eldoret Highway

Capital FM, 10 December 2017

Six people perished on the spot in a road accident at Lamar along the Nakuru-Eldoret Highway. Read more »

Kenya: DP Ruto Urges Caution on the Roads, Mourns Victims of Lamar, Loruk Crashes

Capital FM, 10 December 2017

Deputy President William Ruto is urging motorists to exercise caution and adhere to traffic rules and regulations, especially during the festive season to avoid loss of lives. Read more »

Kenya: President Kenyatta Condoles With Families of Artists Killed in Nakuru-Eldoret Highway Accident

Kenya Presidency, 10 December 2017

President Uhuru Kenyatta has condoled with the families, relatives and friends of six artists who died in a road accident along the Nakuru-Eldoret highway last night. Read more »