Zimbabwe President in Tight Spot Over Picking VPs
President Emmerson Mnangagwa is reportedly facing a tough time in choosing his two deputies after the strong backlash for picking a militarised Cabinet early in December. Mnangagwa appointed two senior military officers to key portfolios in his first Cabinet and dropped close allies of former president Robert Mugabe. Mnangagwa deferred appointing the vice-presidents at the just-ended Zanu PF congress, saying he needed to wait for certain institutional processes.
Zimbabwe: ED in VPs Dilemma

Zimbabwe Standard, 17 December 2017

President Emmerson Mnangagwa is facing a tough balancing act in appointing his two deputies amid indications he is under pressure to reward the military for playing a pivotal role… Read more »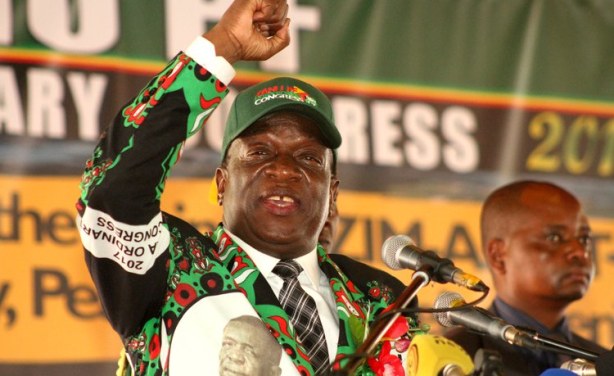 President Emmerson Mnangagwa at Zanu-PF Extraordinary Congress.
Zimbabwe: Mnangagwa Delays VP Appointments

New Zimbabwe, 16 December 2017

Zanu-PF President Emmerson Mnangagwa has appointed water and climate minister Oppah Muchinguri-Kashiri as party national chair but chose to delay the anticipated appointment of his… Read more »

Zimbabwe: ED's Fight to Break Free of Mugabe

Zimbabwe Standard, 17 December 2017

EXACTLY a month after the fall of long-time ruler former president Robert Mugabe, signs are there that new Zimbabwean leader Emmerson Mnangagwa might struggle to undo his… Read more »

Zimbabwe: How Zanu-PF Feted General Chiwenga

Zimbabwe Standard, 17 December 2017

Clad in a black suit, white shirt and a stripped green necktie which matched his wife Marry's green attire, commander of the Zimbabwe Defence Forces (ZDF) General Constantino… Read more »
InFocus
Zimbabwe's newly sworn-in Cabinet ministers are reportedly putting in extra hours every day to meet targets set by President Emmerson Mnangagwa as a new work ethic takes root in ... Read more »

Zimbabwe's former president Robert Mugabe has reportedly left the country for his routine medical check[up in Singapore, his first foreign trip since his ouster by his former ... Read more »

President Emmerson Mnangagwa faces his toughest test yet after taking over from Zimbabwe's former leader when he presides over the first congress of the "new Zanu PF", with war ... Read more »