Zimbabwe Opposition Calling for U.S. Sanctions?
The Movement for Democratic Change opposition alliance has responded to reports that its delegates Nelson Chamisa, Tendai Biti and Jacob Ngarivhume have called for the imposition of sanctions on Zimbabwe by the United States of America. The Donald Trump-led U.S.administration has tabled a raft of tough conditions to be met before full engagement with Zimbabwe and the removal of sanctions, setting the stage for a possible clash with President Emmerson Mnangagwa's Zanu-PF government.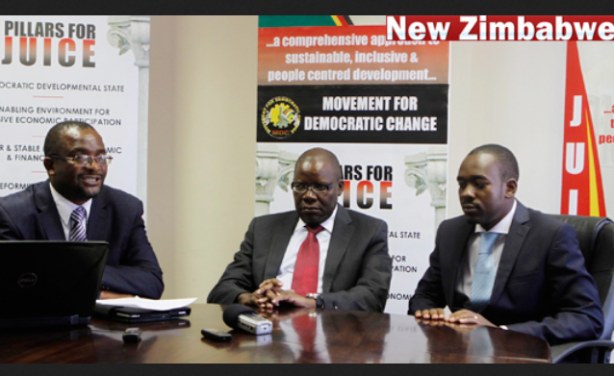 From left, MDC Alliance leaders Douglas Mwonzora, Tendai Biti and Nelson Chamisa (file photo).
Zimbabwe: A Faint Hope for Zimbabwe

New Zimbabwe, 17 December 2017

Decades of Robert Mugabe's ruinous policies have driven his country to economic disaster. But will his successor and former ally be any improvement? Read more »
InFocus
The Donald Trump-led United States administration has tabled a raft of tough conditions to be met before full engagement with Zimbabwe and removal of sanctions, setting the stage ... Read more »