Free South African Higher Education 'Phased In Over 5 Years'
The National Youth Development Agency and the Department of Higher Education have welcomed President Jacob Zuma's announcement that tertiary education would be made freely available to poor and working-class students. The move is expected to cost the government at least R35-billion in currently unbudgeted-for expenditure, according to projections made by youth development organisation, the Thusanani Foundation.
Video
Publisher:

Publication Date:

18 December 2017

The Department of Higher Education and Training has described President Zuma's announcement of free education for working class and poor students as ... see more »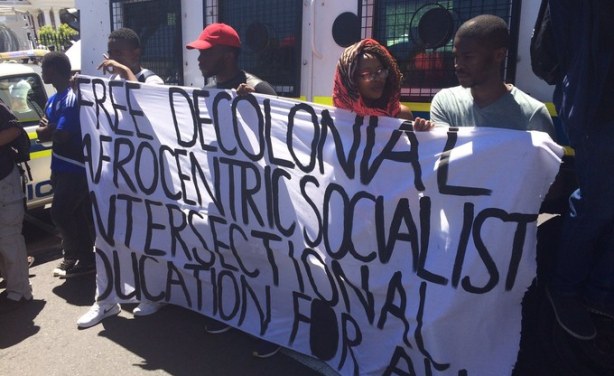 #FeesMustFall protest in Cape Town (file photo).
South Africa: Zuma 'Lacks Understanding of SA's Economic Predicament' - Basa On Fees Announcement

News24Wire, 16 December 2017

The Banking Association of South Africa (BASA) has reacted to Saturday's announcement on fee-free tertiary education with suspicion, saying that the "unaffordable, populist" move… Read more »

South Africa: Mixed Reactions From Opposition Parties Zuma's Fees Announcement

News24Wire, 16 December 2017

The announcement by President Jacob Zuma that free tertiary education would be extended to poor and working-class students next year has received mixed reactions from political… Read more »

South Africa: The Money Has to Come From Somewhere - Heher On Zuma Fees Annoucement

News24Wire, 16 December 2017

The announcement of fee-free education for poor and working-class students has been welcomed by universities and retired judge Jonathan Heher, who headed a commission on the… Read more »

South Africa: Zuma's 'Grants Not Loans' for Tertiary Education Flies in the Face of Heher Commission

News24Wire, 16 December 2017

President Jacob Zuma's announcement of fee-free higher education and training for university students from 2018, in the form of grants not loans, flies in the face of… Read more »

South Africa: Zuma Announces Free Higher Education for Poor and Working Class Students

News24Wire, 16 December 2017

President Jacob Zuma has announced that government will subsidise free higher education for poor and working class students. Read more »
Video
Publisher:

Publication Date:

18 December 2017

Tertiary education, like healthcare, is a basic service which should be free and not treated as a commodity, and that is a view taken by South African ... see more »
InFocus
Students' Representative Council members from the universities of Cape Town, Witwatersrand, and the Free State have slammed the report by the Heher Commission into the Feasibility ... Read more »

Western Cape police have said that officers are prepared to "maintain law and order" during protest action by students from the University of Cape Town and the Cape Peninsula ... Read more »