Tough Road Ahead for South Africa's Ruling Party
Attention is expected to shift to the election of the ruling party's 80-person national executive committee as the ANC's 54th national elective conference enters its fourth day. Reaction has been pouring in after Cyril Ramaphosa beat former AU Commission chairperson Dr Nkosazana Dlamini-Zuma to become the party's 14th president.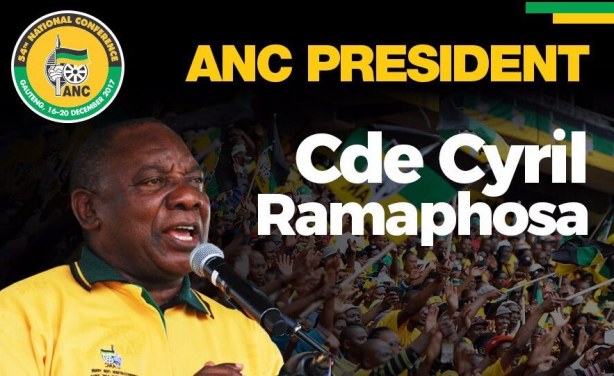 Cyril Ramaphosa is the new president of the African National Congress.
South Africa: Tough Road Ahead - New ANC Deputy President

News24Wire, 19 December 2017

Attention is expected to shift to the ANC's national executive committee (NEC) on Tuesday as the political party's 54th National Elective Conference enters its fourth day. Read more »

South Africa: 'I'm Happy the Zumas Ate a Humble Pie' - Malema

News24Wire, 18 December 2017

Economic Freedom Fighters leader Julius Malema says it will be difficult to recall President Jacob Zuma, because the Gupta family is still in charge. Read more »

South Africa: Ramaphosa's Election 'Too Little, Too Late' - Opposition Leader

News24Wire, 18 December 2017

The election of Cyril Ramaphosa as the new president of the African National Congress (ANC) is "too little too late" for the party, the Democratic Alliance (DA) said in a statement… Read more »

South Africa: Ramaphosa Must Institute State Capture Inquiry First - Sanco

News24Wire, 18 December 2017

The first order of business for newly-elected ANC president Cyril Ramaphosa should be to institute the much-awaited state capture inquiry, the South African National Civic… Read more »

South Africa: Recall Zuma, FF Plus Urges Ramaphosa

News24Wire, 18 December 2017

The Freedom Front Plus wants newly-elected president of the ANC, Cyril Ramaphosa, to recall President Jacob Zuma before February 2018. Read more »

South Africa: Soweto Residents Divided On ANC Election Outcome

News24Wire, 19 December 2017

The summer sun shone bright and hard throughout Monday afternoon - a day when South Africa was waiting for the biggest announcement from the 54th national conference of the ANC at… Read more »

South Africa: 'Viva Ramapahosa, Viva!' - Reaction to #ANC54

News24Wire, 18 December 2017

Only a small group of people in a windy Gugulethu - just minutes from Cape Town's CBD - could be seen celebrating the news that Cyril Ramaphosa had been elected the new president… Read more »

South Africa: Ruling ANC Elects Cyril Ramaphosa As New Leader

Deutsche Welle, 18 December 2017

Cyril Ramaphosa has beaten Nkosazana Dlamini-Zuma, a former cabinet minister, and the ex-wife of President Jacob Zuma. He is now likely to become the country's next head of state. Read more »

South Africa: Meet the ANC's New Top 6

News24Wire, 18 December 2017

Voting for the most sought after positions of influence within the ANC has concluded at the 54th national conference and as expected, there are changes in the nucleus of the… Read more »

South Africa: Ace, Ace Baby!

News24Wire, 18 December 2017

Cyril Ramaphosa bows his head, the smile he has been sporting since he was announced as ANC president fading fast. Read more »

South Africa: New Leader for Ruling Party - but Country Still On Political Precipice

The Conversation Africa, 18 December 2017

Rumours that President Jacob Zuma has instructed the South African National Defence Force to draw up plans for implementing a state of emergency may or may not be true. Nonetheless… Read more »
InFocus
Delegates at the African National Congress's 54th national elective conference have elected Cyril Ramaphosa as the organisation's new president. Ramaphosa defeated Nkosazana ... Read more »