Speaker Kadaga Wants Uganda Govt to Explain Army in Parliament
"I said only the Parliamentary police should be securing this place. I also said I wanted all of them in uniforms [and] with their name [tags on their lapels. I also said that any other deployment of any other police officers must be communicated to my office. So, I want to know who those people are," Speaker of Parliament Rebecca Kadaga has said.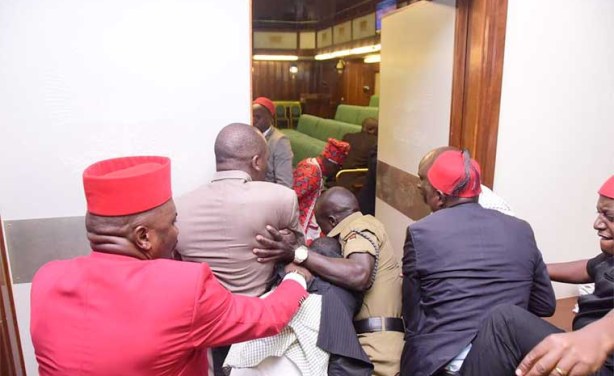 One of the plain-clothed soldiers found camping in Parliament.
InFocus
A parliamentary debate on a report on a bill which aims to amend Uganda's constitution continues after a dramatic day in which several MPs were thrown out of the house and a ... Read more »

The group, led by the opposition's Winnie Kizza, walked out in protest against Speaker Rebecca Kadaga's decision to suspend their six colleagues. When the House resumes, the ... Read more »

The constitution amendment bill seeking to change the presidential age limit comes up for its second reading in Parliament today. The backing of at least 290 MPs is needed to pass ... Read more »