Alleged Corruption in Nigeria - Oil Giants Face Trial in Italy
An Italian judge has ordered Royal Dutch Shell and Eni to stand trial over alleged corruption in Nigeria. The case involves the 2011 purchase of Nigeria's OPL-245 offshore oilfield - one of Africa's most valuable oil blocks - for about U.S.$1.3 billion. The companies deny wrongdoing, saying they acquired the rights in accordance with Nigerian law. The trial in Italy is expected to start in March next year.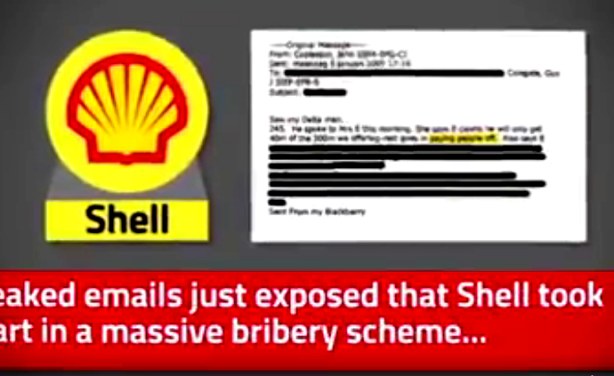 For years, Shell had strenuously denied that it knew anything about the involvement of convicted money launderer and former Nigerian oil minister Dan Etete in its purchase of the rights to one of Nigeria's biggest oil fields. But last week, the British environmentalist and anti-corruption organization, Global Witness, published confidential emails written by a Shell employee. This correspondence, which went right to the top of the Shell management hierarchy, proves that there was a direct link to the convicted Nigerian.
Nigeria: Shell, Eni to Stand Trial in Italy Over Malabu Deal

This Day, 21 December 2017

A judge in Milan, Italy has ordered Royal Dutch Shell and Italian energy giant, Eni, to stand trial in Italy over allegations of bribery and corruption in the 2011 purchase of Oil… Read more »

Nigeria: UK Agrees to Return Nigeria's $85 Million Malabu Oil Loot

Vanguard, 18 December 2017

After many years of legal fireworks, the United Kingdom has given the final clearance for Nigeria to draw down a whopping $85 million seized from entities embroiled in the… Read more »

Nigeria: Dutch Law Firm Seeks Criminal Case Against Shell Over Malabu Oil Deal

This Day, 6 December 2017

A Dutch law firm has asked the public prosecutor in the Netherlands to file a case against Royal Dutch Shell, its CEO and former executives of over what it described as criminal… Read more »

Nigeria: Hearing On Malabu Oil Licence Ownership Case Stalled

This Day, 5 December 2017

Hearing on various applications on the authentic owner of the Oil Prospecting License 245, otherwise known as Malabu, was on Monday stalled at the Federal High Court in Abuja owing… Read more »
InFocus
Shell and Eni are waiting to learn whether an Italian judge will accept a request for the two companies to face trial for alleged corruption over the purchase of Nigeria's richest ... Read more »

Four senior executives of Royal Dutch Shell have been charged by an Italian court for their role in a bribery scheme involving a former Nigerian petroleum minister, Dan Etete, that ... Read more »

The Federal High Court has fixed July 5 to hear the preliminary objections to a suit filed by Malabu Oil and Gas Ltd against the government. Read more »