Tension as Nigeria Recalls Libya Returnees Over HIV
The Edo State Agency for the Control of Aids has said that most victims of atrocious crimes in Libya have tested positive for HIV/AIDS. The agency calls for returnees to come for screening before integrating them into the society.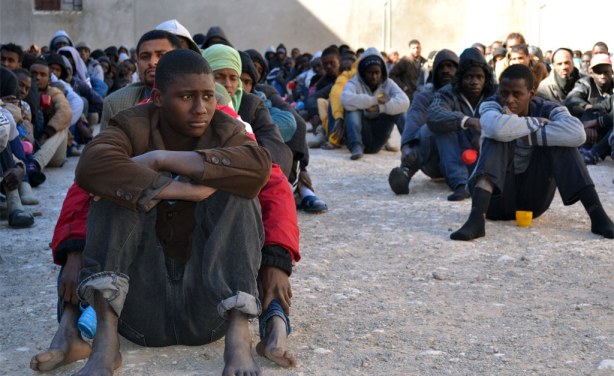 UN human rights report urges end to 'unimaginable abuse' of migrants in Libya (file photo).
Nigeria: Some Libya Returnees Tested HIV Positive - Edo Saca Boss

Vanguard, 22 December 2017

Edo State Agency for the Control of HIV/AIDS, has said that it has concluded arrangements to recall indigenes of the state who were deported from Libya, so they can undergo… Read more »

Nigeria: Libyan Returnee Arrives With Mental Illness As Nema Receives 167

Daily Trust, 19 December 2017

Another set of 167 returnees from Libya arrived the Murtala Muhammed International Airport (MMIA), Lagos in continuation of repatriation of Nigerians from the North African country… Read more »

Nigeria: Libya Horror - We Watched As 59 Nigerians Were Shot Dead - -Returnee - Couple

Vanguard, 17 December 2017

As another 228 Libya returnees arrived Benin-City, last Wednesday, Omo N'Oba N'Edo Uku Akpolokpolo, Oba Ewuare II has thrown his weight behind the fight against human trafficking.… Read more »

Nigeria: Libya - 1,317 Nigerians Rescued in 10 Days

Leadership, 16 December 2017

The National Emergency Management Agency (NEMA) says a total of 1,317 Nigerians have voluntarily returned from Libya in the last 10 days having been stranded in the volatile… Read more »

Nigeria: Failure of Governance, Root Cause of the Libyan Slave Trade Debacle - Poll

Guardian, 20 December 2017

The issue of the inability of the Nigerian government to tackle the seemingly intractable problem of unemployment has been fingered as the reason why Nigerian youths risk their… Read more »

Nigeria: Over 25,000 Nigerians Held in Slave and Sex Camps in Libya in 2017, Says Naptip

This Day, 21 December 2017

The Director General of the National Agency for the Prohibition of Trafficking in Persons, NAPTIP, Julie Okah-Donli, has disclosed that more than 25,000 Nigerians have been held in… Read more »

Nigeria: Human Trafficking - Edo to Track Houses of Cartels, Others

Daily Trust, 21 December 2017

The Edo State Governor, Godwin Obaseki, has said the government will track members of the human trafficking cartels in the state, including religious leaders and other individuals… Read more »

Nigeria: Human Trafficking Fight - Edo Govt to Track Houses of Cartels, Religious Leaders, Others

This Day, 21 December 2017

The Edo State Government is set to embark on a state-wide tracking of members of the human trafficking cartels in the state including religious leaders and other individuals aiding… Read more »