Top 10 Matters That Headlined Nigerian Music Industry in 2017
It's been a year of the good, the bad and the ugly in Nigeria's entertainment industry, judging by the biggest stories that made headlines and trended on social media like never before. Here are the biggest entertainment moments of 2017.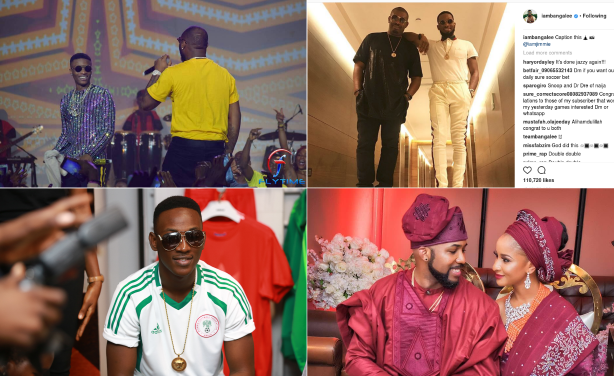 Unforgettable moments in Nigerian entertainment.
Nigeria: Davido Declares Wizkid 'New Best Friend' At #30BillionConcert

Vanguard, 28 December 2017

Nigerian music sensation David Adedeji Adeleke, aka Davido has declared, Ayodeji Ibrahim Balogun, aka Wizkid as his new best friend. Read more »

Nigeria: 2017 - Unforgettable Moments in Nigerian Entertainment

Vanguard, 29 December 2017

It's been a year of the good, the bad and the ugly in Nigerian entertainment industry, judging by the biggest stories that made headlines and trended on social media like never… Read more »

Nigeria: Mo' Hits Stars Shock Fans, Reunite At Davido's '30 Billion Concert'

Vanguard, 29 December 2017

After long years of hiatus as a group since their fall out in 2012, former Mo' Hits Records label mates D'banj, Wande Coal, Don Jazzy, D'prince, Dr. Sid and K Switch came together… Read more »

Nigeria: This Photo of D'Banj, Don Jazzy Has Got the Internet Talking

Premium Times, 28 December 2017

After their reconciliation on Wednesday night, Don Jazzy and Dbanj have further thrilled their excited fans with pictures of themselves striking a rare pose since their messy split… Read more »

Nigeria: #30BillionConcert - Davido Reunites Mo-Hit Records, Trends in the U.S.

Guardian, 28 December 2017

This week has been a great week in the music industry and for music lovers. Read more »

Nigeria: Amazing Highlights of #WizkidtheConcert

Guardian, 27 December 2017

#WizkidTheConcert is arguably the best concert of the year. Read more »