Uncertainty Over Death Toll in South African Train Crash
The Free State Health Department has said that uncertainty over the death toll in the Kroonstad train crash is probably due to the state of some of the bodies of the victims.
Video
Publisher:

Publication Date:

5 January 2018

The death toll from the train crash near Kroonstad as at 13H45 has risen to 6. The Shosholoza Meyl train derailed after colliding with a truck. see more »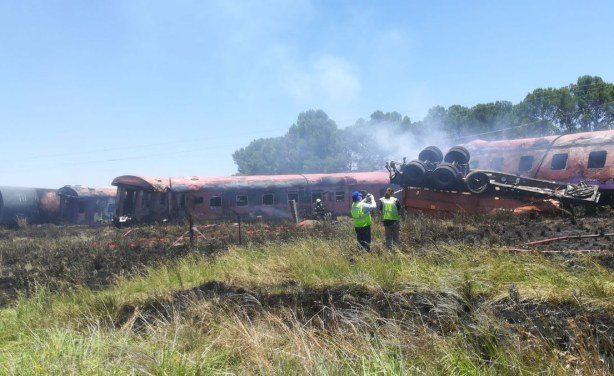 The scene of the train crash in Kroonstad, South Africa.
South Africa: Kroonstad Crash - Search and Rescue Operations Halted

News24Wire, 4 January 2018

Search and rescue operations for passengers involved in a deadly train, truck and car collision near Kroonstad on Thursday morning have been suspended until heavy-duty machinery… Read more »

South Africa: Multiple Deaths Reported After Train Crash

Deutsche Welle, 4 January 2018

Four people have been killed and scores injured in a train crash in South Africa's Free State province. The cause of the accident is yet unknown but the number of casualties is… Read more »

South Africa: Transport Minister Visits Train Accident Scene

SAnews.gov.za, 4 January 2018

Transport Minister Joe Maswanganyi and the MEC for Police, Roads and Transport in the Free State, Sam Mashinini, have visited the site where Shosholoza Meyl train 37012 derailed at… Read more »

South Africa: Truck Driver 'Was Taking Chances' in Kroonstad Crash - Transport Minister

News24Wire, 4 January 2018

The truck driver, who collided with a train in a deadly crash near Kroonstad on Thursday morning in which 14 people died, "was taking chances", Transport Minister Joe Maswanganyi… Read more »

South Africa: Death Toll in Free State Train Crash Rises to 12, Rescuers Search for More Bodies

News24Wire, 4 January 2018

The death toll in the fiery collision between a passenger train, truck and car near Kroonstad in the Free State on Thursday morning has risen to 12, the provincial government has… Read more »

South Africa: Reports of At Least Four Deaths in Free State Train Crash

News24Wire, 4 January 2018

Paramedics have reported that at least four people have died after a passenger train crashed into a truck and another vehicle near Kroonstad in the Free State on Thursday morning. Read more »