Why We Attacked Protesting Shiites - Nigerian Police
The police said the protesters were violent and that they recovered improvised petrol-bombs, stones and catapults used by members of the sect to attack police operatives and damage police operational vehicles. Members of the Islamic Movement in Nigeria are protesting the continued incarceration of their leader, Ibrahim El-Zakzaky.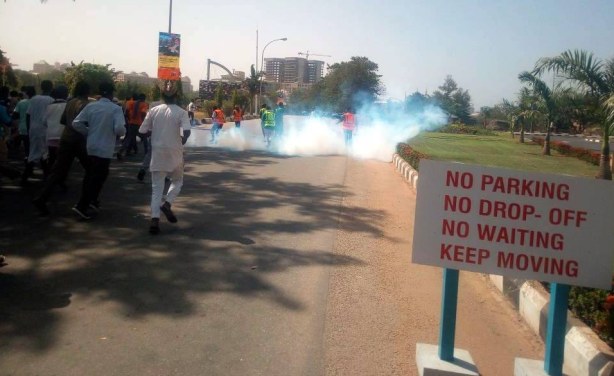 Police attack protesting Shiites with tear gas.
Nigeria: Why We Attacked Protesting Shiites - Nigerian Police

Premium Times, 10 January 2018

The Nigerian Police have provided reasons for attacking members of the Shiite IMN group protesting the illegal incarceration of their leader, Ibrahim El-Zakzaky. Read more »

Nigeria: Zakzaky May Die in Detention - Shi'ites

Vanguard, 11 January 2018

The Islamic Movement in Nigeria, IMN, yesterday, raised the alarm that their leader, Sheikh Ibraheem El Zakzaky, who had been in detention for over two years, may die in government… Read more »

Nigeria: We Arrested 52 Shi'ite Members in Abuja With Petrol Bombs - Police

Vanguard, 10 January 2018

The Federal Capital Territory, FCT, Police Command, Wenesday, arrested 52 members of the El-Zakzaky-led Islamic Movement in Nigeria,IMN, following yesterday's protest embarked upon… Read more »

Nigeria: Gunshots in Abuja As Police Forcefully Disperse Protesting Shiites

Premium Times, 10 January 2018

The police fired shots on Wednesday morning in Abuja as they forcefully dispersed protesting members of the Islamic Movement in Nigeria, IMN. Read more »

Nigeria: Shiites Vow to Continue Procession Despite Incessant Attacks By Nigerian Police

Premium Times, 10 January 2018

The Islamic Movement in Nigeria, IMN, has vowed to continue its demand for the release of its leader, Ibrahim El-Zakzaky, despite the clampdown by security operatives during some… Read more »

Nigeria: Police Attack, Tear-Gas Shiites in Abuja

Premium Times, 8 January 2018

Police have clashed with hundreds of Shiites in the central area of Abuja, teargassing the demonstrators as they made attempt to enter the National Assembly. Read more »