Can South Africa's Ramaphosa Renew ANC Unity?
Following Cyril Ramaphosa's victory at the African National Congress's 54th national conference in December 2017, the new leader of the ruling party faces the challenge of appealing to pro-Zuma allies of the ANC while stll being held accountable to the promises made regarding free higher education and the expropriation of land without compensation.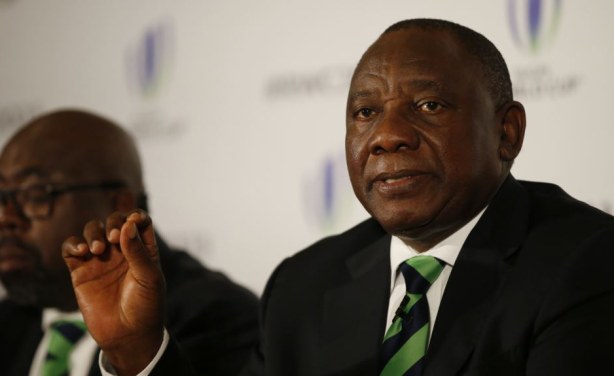 ANC President Cyril Ramaphosa (file photo).
South Africa: Forgetting Marikana - What Does Ramaphosa's Rise Mean for Poor South Africans?

African Arguments, 10 January 2018

As director of Lonmin, the multi-millionaire saw miners striking for a living wage as criminals. Read more »

South Africa: Boiling a Frog - Ramaphosa's Patient Battle

African Arguments, 9 January 2018

Ramaphosa is now president of a deeply divided party. History suggests he will move cautiously, but effectively. Read more »

South Africa: Calls for Zuma to Step Down Threaten Unity Agenda - Veterans

News24Wire, 8 January 2018

The Umkhonto we Sizwe Military Veterans Association (MKMVA) has denounced calls for President Jacob Zuma to step down, saying that the subject was the creation of a regime change… Read more »

South Africa: The ANC Is Trying to Out-Populist the EFF

Democracy Works, 4 January 2018

After its watershed 54th national conference weighed down by corruption, scandals and government failure, the ANC, for all practical purposes, faces the post-conference future… Read more »

South Africa: Zuma Survives First Ramaphosa NEC Meeting

News24Wire, 10 January 2018

President Jacob Zuma will remain at the helm of the country after the national executive committee (NEC) of the ANC did not deliberate on his future at its meeting in East London… Read more »

South Africa: ANC's 106th - Ramaphosa's Speech - Low Bar, High Expectations

Daily Maverick, 10 January 2018

When South Africa's Deputy President Cyril Ramaphosa stands up to give his first January 8th Statement as leader of the ANC, he will face a set of contradicting issues. To give a… Read more »

South Africa: Ramaphosa, Zuma in Continuous Talks As Speculation of a Recall Mounts

News24Wire, 10 January 2018

President Jacob Zuma and ANC president Cyril Ramaphosa have had intimate meetings, as speculation over Zuma's future as head of state remains uncertain. Read more »

South Africa: Land Expropriation Exposes Ramaphosa's Policy Tightrope

Daily Maverick, 9 January 2018

ANC President Cyril Ramaphosa has repeated his commitment to expropriating land without compensation, but this weekend could reveal his sincerity on the policy and how the ANC will… Read more »
InFocus
A commission of inquiry appointed by Deputy Chief Justice Ray Zondo may only focus on state capture allegedly committed by the Zuma and Gupta families, which former public ... Read more »