One Million Children Left Behind in Ugandan Primary Schools
Less than half of the almost two million Ugandan children who enrolled in primary school in 2010 have written their final exams. Using education ministry data, the Saturday Monitor newspaper tracked the progress of the would-be 2017 Primary Leaving Education candidates from the time they enrolled - and found a huge gap between those who joined the system and those that were able to complete the seven-year cycle.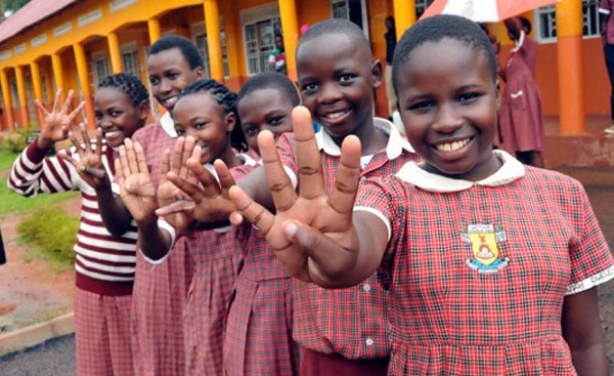 (Left to right) Patricia Achiengi, Abubaker Matovu, Amina Mirembe, Cathy Nankya, Deborah Nassali and Elizabeth Nabukenya of Light Primary School Bulenga celebrate after scoring an Aggregate 4 each.
Uganda: How Top Government Officials' Primary Schools Performed

Monitor, 14 January 2018

Schools which were attended by different top government officials and public figures posted mixed results according to the Primary Leaving Examination (PLE) results released on… Read more »

Uganda: Top 127 Schools Get Aggregate 4

Monitor, 14 January 2018

At least 127 primary schools managed to have candidates with Aggregate Four in last year's Primary Leaving Examinations, the best grade according to Uganda National Examinations… Read more »

Uganda: Education Minister Bans Pre-Registration Exam Tests

Observer, 13 January 2018

Education minister Janet Museveni has said there should be no more pre-registration tests or examinations within public and private schools as candidates prepare for national… Read more »

Uganda: PLE Stars Get Cash Prizes

Monitor, 13 January 2018

It was joy and jubilation as Kampala Parents School best performers in Primary Leaving Examinations got cash rewards for excelling. The school proprietor Mr Sudhir Ruperelia handed… Read more »

Uganda: Pupils Excel in Social Studies, Sciences

Monitor, 13 January 2018

Social Studies and Integrated Sciences were the best done subjects in the 2017 PLE. Read more »

Uganda: PLE - Education Minister Promises New Law to Fight Exam Malpractice

Observer, 12 January 2018

Education and Sports minister Janet Museveni has promised to introduce a bill in parliament that will lay down severe punishments for schools and teachers found guilty of… Read more »

Uganda: 2017 PLE Out - Fewer Candidates Get Div I

Observer, 12 January 2018

Fewer candidates got division one in the 2017 Primary Leaving Examinations compared to the previous year, results released this afternoon show. At least 333,494 (51%) girls and… Read more »

Uganda: Universal Education Still a Distant Dream

Monitor, 14 January 2018

Examination hysteria is here again following the release on Friday of the results of the Primary Leaving Examinations (PLE) for the year 2017. Read more »

Uganda: Government Should Not Ban Pre-Registration Exams

Monitor, 15 January 2018

Schools across the country have been directed to stop setting pre-registration tests or examinations for candidates. Read more »
InFocus
The Daily Monitor writer Daniel K. Kalinaki explores why there has there been so much criticism of the First Lady since she became education minister despite her decade-long ... Read more »