A Glass Half Full - Preparing for Day Zero in South Africa
"Level 6 water restrictions are here - this means the crisis in the Western Cape has intensified to the point where 'Day Zero' is looking more real by the day. For my allAfrica colleagues, that scenario - when the taps run dry - is now a focal point in many aspects of our lives," writes Andre van Wyk.
Photo Essay
Picture 1 of 6

Plans to increase water supply to the Voëlvlei Dam, scheduled to come on stream in 2024, have been fast-tracked to 2019 to help with Cape Town's water crisis. see more »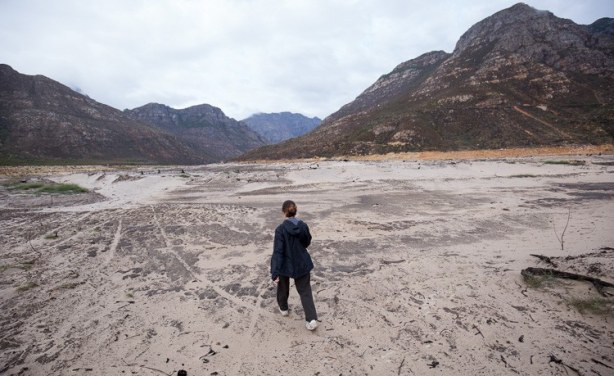 The Berg River is so dry in places that you can walk across it.
Video
Author:

Sanlam

Publisher:

Publication Date:

17 November 2017

The Cape's experiencing the worst water crisis in over 100 years. 10 of SA's biggest artists have joined the fight and are singing to save water. Join ... see more »
Photo Essay
Picture 1 of 10

The World Wildlife Fund presents this collection of tips on how to save water. How to be aware of your water footprint: Determine your monthly water usage from your municipal bill, monitor use and ... see more »
Video
Publisher:

Cape Argus

Publication Date:

31 January 2017

In an effort to help you conserve water, we've commissioned the #CapeArgusShowerSong by Acoustic Element feat. Amy Tjasink - a 2:30 song to shower to. ... see more »
Photo Essay
Picture 1 of 6

Six major dams hold 99.6% of Cape Town's water capacity, with eight smaller dams, mostly on Table Mountain, responsible for a mere 0.4%. Theewaterskloof is the largest of the six major dams, with a ... see more »
InFocus
Level 6 water restrictions have been implemented. Urban households are required to reduce water usage by 45%, and agricultural users to reduce consumption by 60%. However, ... Read more »

According to the City, Day Zero is when almost all of the taps in the city will be turned off and residents would have to queue for water at approximately 200 sites across the ... Read more »

The Western Cape's call on the national government to offer assistance in the province's drought crisis comes as Cape Town Mayor Patricia De Lille said only half of Cape Town ... Read more »