Cape Town at 'Point of No Return' as #DayZero Approaches
The City of Cape Town will introduce tighter water restrictions with a new limit of 50 litres per person per day to make up for the many months of missing the 500 million litre per day collective consumption target.
South Africa: Cape Town Could Run Out of Water By April

Deutsche Welle, 19 January 2018

The South African city of Cape Town could soon dry up after dismal rainfall left city dams almost empty. Residents and visitors are being asked to restrict usage of water even… Read more »

South Africa: City of Cape Town Withdraws Drought Levy Proposal

News24Wire, 19 January 2018

The City of Cape Town has scrapped the proposed introduction of a drought levy, after the proposal was withdrawn at a special sitting on Friday. Read more »

South Africa: Drought Levy Likely to Be Dropped After Massive Outcry - Mayor

News24Wire, 18 January 2018

The controversial drought levy, or drought charge, proposed by the City of Cape Town will most likely be rejected at a council meeting on Friday, Mayor Patricia de Lille said on… Read more »

South Africa: Facts and Myths About Cape Town's Water Crisis

GroundUp, 18 January 2018

Cape Town Mayor Patricia De Lille has announced that Day Zero is now more likely than not. From 1 February, all households have to reduce their municipal water consumption to 50… Read more »

South Africa: #CapeWaterGate - DA Hints Mayor De Lille to Blame for Water Crisis Mismanagement

Daily Maverick, 16 January 2018

There are few events in South Africa that don't get turned into a political football, and the Cape water crisis is no exception. Announcing on Sunday that Cape Town Mayor Patricia… Read more »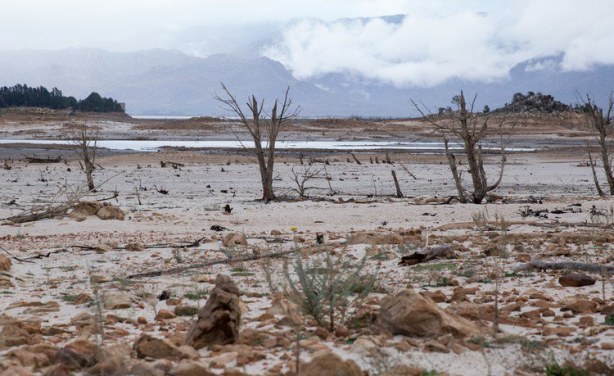 Theewaterskloof Dam in drought-stricken Western Cape (file photo).
Video
Publisher:

Publication Date:

18 January 2018

City of Cape Town Drought Crisis: Day Zero. see more »
South Africa: WWF's Wednesday Water File - It's Time to Prepare for Day Zero

WWF, 18 January 2018

For the last few months, Capetonians have been talking about Day Zero, the day when the city's taps are expected to run dry but what does this really mean? In the first of a… Read more »

South Africa: Cape Town's Map of Water Usage Has Residents Seeing Red

The Conversation Africa, 17 January 2018

The latest weapon in Cape Town's water saving arsenal is a map that exposes private meter readings to public scrutiny. The initiative has been launched as the South African city… Read more »

South Africa: Cape Town Launches Map to Track Water Usage

SAnews.gov.za, 16 January 2018

The City of Cape Town has launched a water map to assist residents to track their water usage. Read more »

South Africa: Eastern Cape Drought - Rapidly Overtaking the Cape Town Crisis

Daily Maverick, 17 January 2018

Cape Town has dominated headlines as the city most likely to run out of water due to the crippling drought in the Western Cape. But as officials in the Cape Town Mayor's office… Read more »

South Africa: City's Water Reports to DA 'Irregular' and 'Contradictory' - Federal Chair

News24Wire, 16 January 2018

Water updates or "reports" from the office of Cape Town Mayor Patricia de Lille to the Democratic Alliance (DA) have been "irregular" and "contradictory", the party's federal… Read more »

South Africa: Gigaba Must Refuse De Lille's Drought Levy Proposal - Western Cape ANC

News24Wire, 17 January 2018

The ANC in the Western Cape wants Finance Minister Malusi Gigaba to refuse embattled Cape Town Mayor Patricia De Lille's bid to replace R1.6b in lost revenue through a drought… Read more »

South Africa: Coalition Calls for New Measures to Tackle Drought

GroundUp, 16 January 2018

Members of civic organisations have called for new measures to save water, protesting against the City of Cape Town's proposed drought levy and the use of water management devices. Read more »

South Africa: Firm Headed By Former DA Heavyweights to Net R650k for Cape Town Drought Communication

News24Wire, 16 January 2018

A public relations firm headed by former Democratic Alliance (DA) leader Tony Leon and communications director Nick Clelland is set to receive over half a million rand from the… Read more »

South Africa: Drilling On Cape Flats Aquifer Starts As Cape Town Dams Dry Up in Drought

News24Wire, 11 January 2018

The City of Cape Town drilled its first test borehole into the Cape Flats aquifer on Thursday, hoping that the earth's natural underground reservoirs would provide an extra 80… Read more »

South Africa: Dam Project Sped Up to Tackle Cape Town Water Crisis

GroundUp, 12 January 2018

Plans to increase water supply to the Voëlvlei Dam, scheduled to come on stream in 2024, have been fast-tracked to 2019 to help with Cape Town's water crisis. Read more »