Human Rights Group Calls out African Nations on Violations
In a 643-page World Report, Human Rights Watch reviews human rights practices in more than 90 countries. The report says that countries whose human rights records raised serious concern in 2017 include Angola, Mozambique, the Democratic Republic of Congo, South Africa, Swaziland, and Zimbabwe.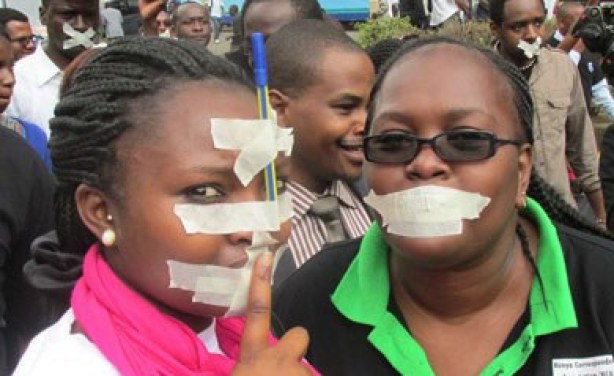 Kenyan journalists protest government censorship (file photo).
South Africa: South African Human Rights Record Poor in 2017 - HRW

HRW, 18 January 2018

South Africa has, over the years, built a robust and independent judiciary essential for respect for the rule of law; but in 2017, the government's record on human rights and… Read more »

South Africa: SA's Record On Respect for Rule of Law Poor - Human Rights Watch

News24Wire, 18 January 2018

Human Rights Watch's World Report 2018 has found that the SA government's record on human rights and respect for the rule of law was poor, despite a robust and independent… Read more »

Nigeria: Conflict, Violence, Protests - and An Absent President

HRW, 18 January 2018

The ongoing Boko Haram conflict in the northeast, cycles of communal violence between pastoralists and farmers, and separatist protests in the south defined Nigeria's human rights… Read more »

Zimbabwe: 'New President Shows No Signs of Ensuring Independence of Electoral Body'

HRW, 18 January 2018

In November 2017, President Robert Mugabe was ousted in a military coup and was replaced by his former deputy, Emmerson Mnangagwa, who has his own long record of rights violations.… Read more »

Ethiopia: Addis Makes Little Progress on Rights Reforms

HRW, 18 January 2018

Ethiopia made little progress in 2017 on much-needed human rights reforms. Instead, it used a prolonged state of emergency, security force abuses, and repressive laws to continue… Read more »

Kenya: Both Elections Marred by Human Rights Abuses - Report

HRW, 18 January 2018

On August 8, Kenya's electoral commission declared incumbent President Uhuru Kenyatta winner for a second term, amid opposition and civil society claims of fraud. The elections… Read more »

Tanzania: Magufuli's Repressive Laws Restrict Basic Freedoms - Report

HRW, 18 January 2018

Upon taking office in October 2015, President John Pombe Magufuli committed to stamp out corruption in government and to be accountable to ordinary citizens, but instead has… Read more »

South Africa: Govt Working Together With Oppressive Media Regimes

News24Wire, 23 May 2017

South Africa has media agreements with countries which, according to the international press freedom watchdog Reporters Without Borders, practice press censorship and oppress… Read more »

Nigeria: Buhari Fails to Keep His Promise On Human Rights

Guardian, 15 January 2018

President Muhammad Buhari anti-corruption record appears to be rising, but his human rights record is sinking. And his presidency is beginning to appear more like the military… Read more »
InFocus
According to a Committee for the Protection of Journalists prison census 2017 report, as of December 1, sub Saharan countries had arrested at least 39 journalists, while north ... Read more »