Is Zimbabwe's President Facing Internal Party Rebellion?
Following President Emmerson Mnangagwa's call for an early election, amid suggestions that he hoped to capitalise on opposition disarray, reports have indicated that he could face internal revolt within his own Zanu-PF party, with many of the ruling party legislators reportedly calling for elections to be postponed by at least three years. This will be the first time since independence the southern African country will conduct a poll that does not involve former president Robert Mugabe.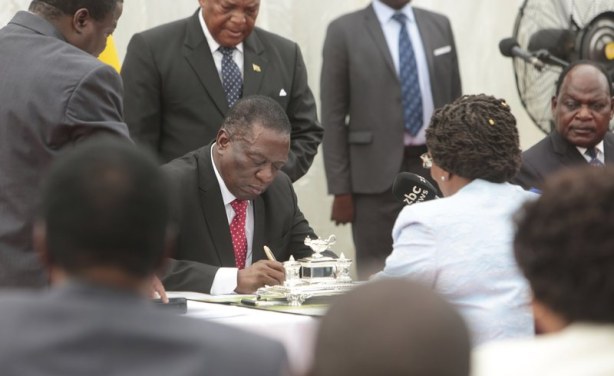 Cabinet ministers take their oath of office before President Emmerson Mnangagwa (file photo).
InFocus
President Emmerson Mnangagwa has announced that elections will take place in five months, amid reports from the opposition that Zimbabwe's leader deployed troops to the rural areas ... Read more »

Opposition MDC-T leader Morgan Tsvangirai has for the first time hinted he might retire. In a statement, Tsvangirai said he was seriously thinking about his future and the ... Read more »

Zimbabwe's Constitution requires it to hold elections by July 2018. It seems unlikely that the country's political system will be reformed in time to ensure the election is free ... Read more »