Ugandan President Museveni Loves Trump for Frankness About Africa
President Yoweri Museveni has praised US President Donald Trump, who recently reportedly referred to Haiti, El Salvador and African nations as "shithole countries". Speaking at the opening of the East African Legislative Assembly assembly in Kampala, Museveni said: "I love Trump because he tells Africans frankly."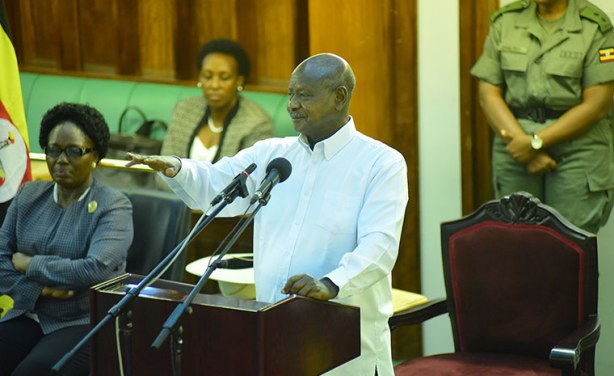 President Yoweri Museveni addressing East African Legislative Assembly legislators on January 23, 2018.
Africa: I Love Trump, Says Museveni

Monitor, 23 January 2018

President Museveni has said he "loves" United States (US) President, Donald Trump, who recently labelled Africa as a shithole, because Mr Trump is frank. Read more »

Uganda: US Ambassador Malac Regrets Trump's 'Shithole' Comments

Observer, 23 January 2018

The United States Ambassador to Uganda Deborah Malac has described as 'disturbing' and 'upsetting', disparaging comments about immigrants from Africa, made by US President Donald… Read more »

Kenya: Kenya Has 'No Problem' With Trump Racist Remarks

East African, 18 January 2018

Kenya says it has no problem with the obscene word used by US President Donald Trump to describe African countries and Haiti. Read more »

Uganda: Is the United States a Shithole Country?

Independent (Kampala), 22 January 2018

Just before the outbreak of the Nama-Herero rebellion in modern day Namibia in April 1904, Chief Hendrick Witboi of the Nama tribe penned a letter to the then German military… Read more »

Africa: Trump Tells the Truth - U.S. Doesn't Want Africans

Monitor, 16 January 2018

As is the wont, President Donald Trump, ruffled the feathers of many when he plainly spoke his mind on Africa and a few other poor countries. Read more »
InFocus
The White House has received a letter from 78 former ambassadors who represented the United States in 48 African nations. The letter - signed by both political appointees and ... Read more »

Following U.S. President Donald Trump's controversial reported comments referring to Haiti and African countries as "shitholes", Namibia has hit back with a video that hilariously ... Read more »