Namibia Genocide Lawsuit - Is Germany Backpedalling?
The start of the negotiations in late 2015 marked a turning point after more than a century of German denialism. But now tangible progress seems elusive, and a crisis may be imminent, delaying justice for the Ovaherero and Nama descendants - the main victim groups.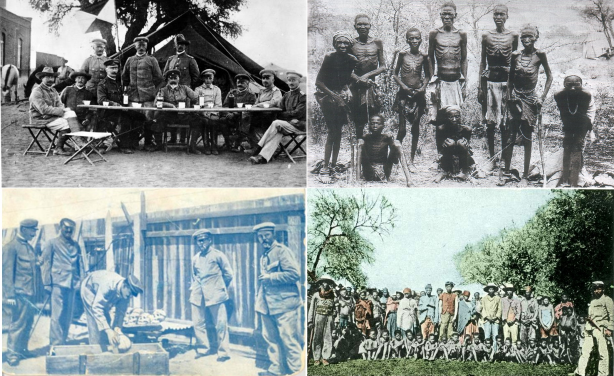 Left: German soldiers Right: Namibian prisoners chained (file photo).
Namibia: Genocide Case in Court

Namibian, 23 January 2018

Germany is expected to appear in New York City's District Court on Thursday, or risk losing the case to the descendants of the genocide victims by default. Read more »

Namibia: U.S. Court Rejects Germany's Motion On Nama, Ovaherero Genocide

New Era, 19 January 2018

United States District Court Judge Laura Taylor Swain on Tuesday denied Germany's motion to dismiss a class-action lawsuit filed by Ovaherero and Nama people in the United States… Read more »

Namibia: Genocide Talks With Germany Hit Snags

The Conversation Africa, 10 January 2018

Namibian-German negotiations about the genocide perpetrated in the former German colony South West Africa in 1904-1908 have just entered their third year. Read more »

Namibia: Germany Makes U-Turn On Genocide Lawsuit

New Era, 15 January 2018

Following a protracted legal challenge, the German government has finally accepted a court summons to appear in the United States Federal Court in New York in the class-action… Read more »
InFocus
Germany might end up paying U.S.$91 Billion if the Namibian government and the Ovaherero Traditional Authority's demands succeed. The Ovaherero Traditional Authority's Secretary ... Read more »

Despite mounting pressure from civil society, Germany has so far failed to apologize for the 1906 extermination campaign against Namibians who resisted colonial rule, a delay that ... Read more »

Traditional leaders and their lawyers are meeting with a U.S. judge to discuss whether a possible class-action suit can be lodged against Germany for the genocide of the Herero ... Read more »