Trump To Bring Billions If We Win Polls, Says Zimbabwe Opposition
The Movement For Democratic Change Vice President Nelson Chamisa has claimed that U.S. President Donald Trump promised the opposition party U.S.$15 billion in the event that it wins the 2018 elections. The money, according to Chamisa, is for reconstruction and economic recovery programmes.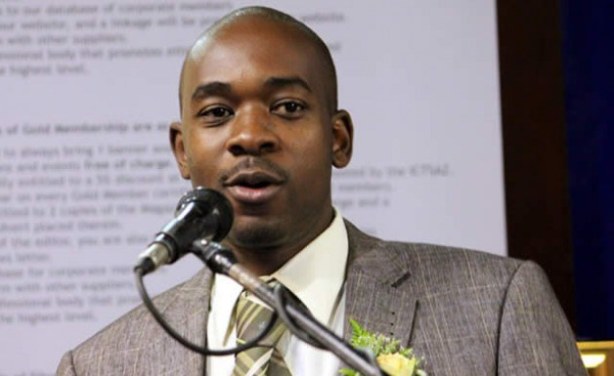 Opposition MDC-T Vice President Nelson Chamisa (file photo).
Zimbabwe: We're Confident of Landside Win If Vote Free and Fair - Opposition

New Zimbabwe, 27 January 2018

The MDC-T says it is confident of securing a landslide victory in this year's harmonised elections, despite internecine succession fights reportedly rocking the opposition… Read more »

Zimbabwe: Opposition Alliance Faces Disintegration

Zimbabwe Standard, 28 January 2018

The MDC Alliance could be doing things that are not consistent with their laid down agreement, providing fertile ground for possible disintegration of the coalition and or even… Read more »

Zimbabwe: Opposition Alliance to Stand - Ngarivhume

263Chat, 24 January 2018

Transform Zimbabwe President, Jacob Ngarivhume has thrown his weight behind the envisaged alliance of opposition parties under the MDC Alliance saying their agenda will not fall… Read more »

Zimbabwe: No Going Back On MDC Alliance - Chamisa

New Zimbabwe, 11 January 2018

THE MDC-T will not go back on its alliance with other opposition formations despite deep internal divisions over the issue, vice president Nelson Chamisa has said. Read more »

Zimbabwe: Letter From America - Will Mnangagwa Take Away Cheese From MDC?

Financial Gazette, 11 January 2018

ALL eyes are on Zimbabwe. President Emmerson Mnangagwa is in the same situation that Robert Mugabe was in, 1980, but with one proviso. In 1980 the world lay at Mugabe's feet and he… Read more »
InFocus
Opposition MDC-T leader Morgan Tsvangirai has for the first time hinted he might retire. In a statement, Tsvangirai said he was seriously thinking about his future and the ... Read more »