Liberia's New President Cuts His Salary By 25%
During his first State of the Nation address, President George Weah told lawmakers that although the salary of the president is fixed by law, "I will reduce my salary and benefits by 25% and give the proceeds back to the consolidated fund for allocation and appropriation as they see fit". He urged legislators to do same.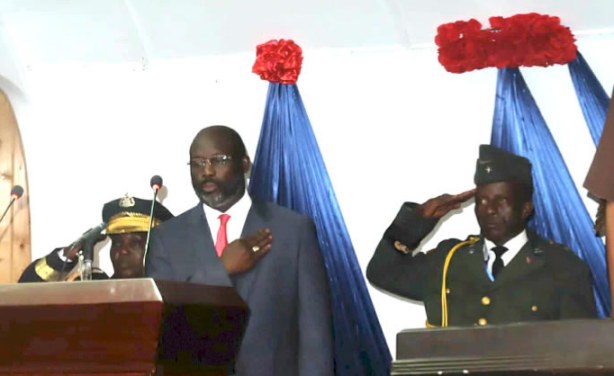 President Weah poses for the playing of the national anthem.
Liberia: President Weah's First Annual Message Makes Great, Unprecedented Promises to Foreigners - What Was in It for Liberians?

Observer, 30 January 2018

President George Manneh Weah, who only eight days ago took the oath of office to become Liberia's new President, made pronouncements in his maiden Annual Message on policy issues… Read more »

Liberia: First Annual Message - Pres. Weah Opens Pandora Box On Economy, Citizenship

FrontPageAfrica, 30 January 2018

In the first most important speech to his compatriots since his inauguration, President George Manneh Weah on Monday outlined his government's policies and reforms that would form… Read more »

Liberia: What President Weah's 25 Percent Salary Reduction Means

Observer, 30 January 2018

GOL could save at least US$5.5 million if VP, 54th Legislature Participate. Will they? Read more »

Liberia: 'Govt Is Broke'

NEWS, 30 January 2018

President George M. Weah has given his first State of the Nation address to the Legislature revealing that the Liberian economy is broken. Read more »

Liberia: A Call to Service

New Dawn, 30 January 2018

President George Manneh Weah is on the verge of completing formation of his cabinet, including appointments to public corporations and autonomous agencies here following a moment… Read more »

Liberia: Weah's First State of the Nation Address Ignores Sports Development

Observer, 30 January 2018

What trouble Liberian sports! In his first state of the nation address yesterday, President George Manneh Weah indicated that the country is broke. Read more »
InFocus
Newly-elected President George Manneh Weah has been preoccupied with forming his government. So far, he has named his ministers of finance, defense and foreign affairs, amongst a ... Read more »