I'll Be Back in Zimbabwe Shortly, Says Tsvangirai
Responding to reports that he's battling for his life in South Africa, with his doctors having indicated that he had three months to live, Morgan Tsvangirai has taken to his personal Twitter page dismissing the reports as "speculation". "No deadline has been given to me and my family. I am getting routine attention like any other cancer patient and I will be back in Zimbabwe shortly," he said.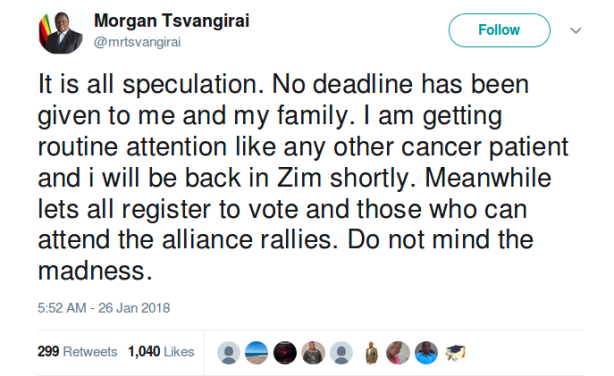 Morgan Tsvangirai rejects reports he has three months to live.
InFocus
Opposition MDC-T leader Morgan Tsvangirai has for the first time hinted he might retire. In a statement, Tsvangirai said he was seriously thinking about his future and the ... Read more »

The main opposition Movement for Democratic Change leader Morgan Tsvangirai has reportedly been stopped from flying to Germany for further treatment after South African doctors who ... Read more »

President Emmerson Mnangagwa has made a home visit to the leader of the main opposition party, Morgan Tsvangirai, who has been battling cancer. Mnangagwa, who was accompanied by ... Read more »