Zuma to be Barred from Delivering South African National Address?
Opposition parties the Economic Freedom Fighters and Democratic Alliance have written to Parliamentary Speaker Baleka Mbete requesting that President Jacob Zuma be barred from delivering the annual State of the Nation Address. This comes after Parliament's sub-committee on the rules of the National Assembly met to discuss the proposal of a "hybrid panel" of MPs and retired judges to handle the in-depth processes of impeaching a president.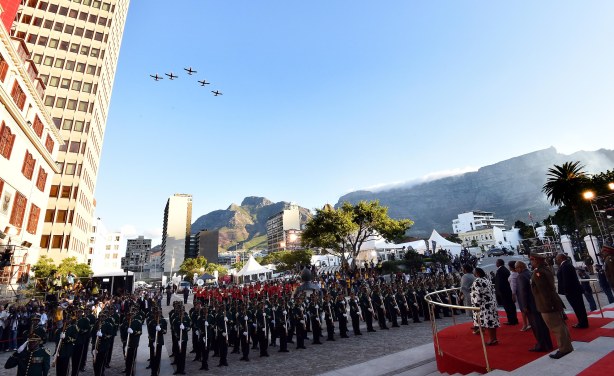 Fly past at Parliament before President Jacob Zuma delivers his State of the Nation Address (file photo).
South Africa: Call to Halt South Africa's State Address

East African, 31 January 2018

Two of South Africa's biggest parties, the Economic Freedom Fighters (EFF), and the Democratic Alliance (DA), are attempting to block President Jacob Zuma from delivering next… Read more »

Africa: 'I Have Requested That SONA Be Postponed Until Parliament Can Elect a New President for South Africa'

DA, 31 January 2018

I have written to the Speaker of the National Assembly, Baleka Mbete, requesting that this year's State of the Nation Address (SONA), scheduled for next Thursday 8 February, be… Read more »

South Africa: Opposition Parties Call for Zuma's Dismissal Ahead of National Address

News24Wire, 31 January 2018

Pressure is piling on President Jacob Zuma as opposition parties approach Parliament, with the Democratic Alliance seeking to postpone the State of the Nation Address and the… Read more »
InFocus
Parliament's sub-committee on the rules of the National Assembly has met to discuss the proposal of a "hybrid panel" of MPs and retired judges that would handle the in-depth ... Read more »