South African President Zuma 'Refused to Resign'
In the strongest indication yet that President Jacob Zuma won't voluntarily step down, the 20 members of the ANC's national working committee have been summoned to a special meeting today. After Zuma and the ANC's new top six leaders met on Sunday night, EFF leader Julius Malema tweeted: "He refused to resign and he told them to take a decision to remove him if they so wish to do so because he didn't do anything wrong to the country."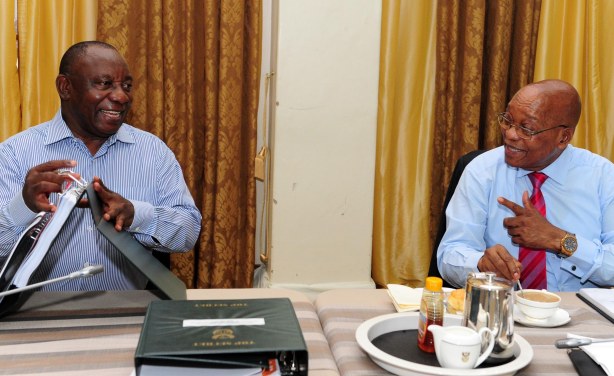 President Jacob Zuma, right, and the country's Deputy President, Cyril Ramaphosa, at an extended Cabinet meeting on January 31 to prepare for the president's state of the nation address.
InFocus
The joint rules committee has agreed to give its caucuses two weeks to consider two proposals on how to impeach a sitting president. This comes after opposition parties the ... Read more »

Opposition parties the Economic Freedom Fighters and Democratic Alliance have written to Parliamentary Speaker Baleka Mbete requesting that President Jacob Zuma be barred from ... Read more »

Parliament's sub-committee on the rules of the National Assembly has met to discuss the proposal of a "hybrid panel" of MPs and retired judges that would handle the in-depth ... Read more »