Cape Town Not Only African City Running Out of Water...
The annual rainfall in southern Africa doesn't seem to have changed much over the last century since measurements began. But it has become more variable: droughts and floods are more frequent than before. The region's urban authorities, industries, farmers and other citizens will have to adapt to these conditions, writes Andrew Slaughter and Sukhmani Mantel in the The Conversation. This comes as Cape Town has its worst water shortage in 100 years, with 4 million residents experiencing water restrictions and are staring at #dayzero on May 11, 2018, when authorities say the taps will run dry. The rest of South Africa, including the Northern and Eastern Cape, are also experiencing severe drought and water shortages.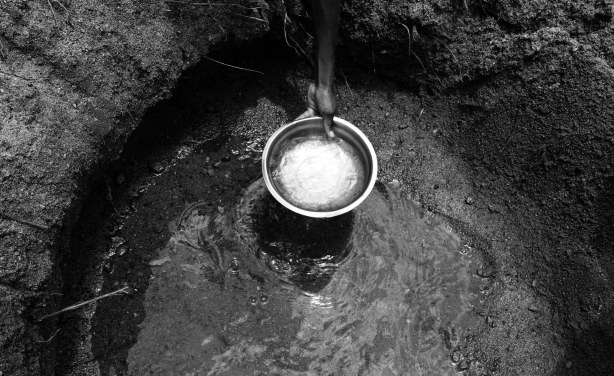 Albertina, 10, scoops water from a hole dug in the dry Lurio riverbed, in M'mele village in Mozambique.
Zimbabwe: Water Crisis Hits Country's Biggest Hospitals

The Herald, 5 February 2018

The country's biggest referral hospitals -- Parirenyatwa Group of Hospitals and Harare Central Hospital -- faced biting water shortages over the weekend, exposing patients' health… Read more »

South Africa: Parched Cape Town, Flood-Prone Miami Help Cities Confront Water Risks

Thomson Reuters Foundation, 31 January 2018

"When it comes to water, you can't think of a city in splendid isolation" Read more »

Zimbabwe: Disaster After Disaster - Climate Change Headache

The Herald, 8 January 2018

This time last year large swathes of land in Zimbabwe was covered in flood waters. A torrent of rain had destroyed homes, schools, clinics, roads and killed more than a 100 people.… Read more »

South Africa: #Capewatergate - Leadership in Moments of Crisis - How Pivot Issues Get Neglected

Daily Maverick, 5 February 2018

The crisis, irrespective of how it will unfold, is likely to make Cape Town more drought-resilient in the medium and long term. This is the good news. Read more »
InFocus
The City of Cape Town will introduce tighter water restrictions with a new limit of 50 litres per person per day to make up for the many months of missing the 500 million litre per ... Read more »

Cape Town residents who failed to comply with the recently introduced level 6B water restrictions have been issued U.S.$333 in fines, law enforcement officials said. Under the new ... Read more »

"Level 6 water restrictions are here - this means the crisis in the Western Cape has intensified to the point where 'Day Zero' is looking more real by the day. For my allAfrica ... Read more »