Kenyan Doctor to Argue for Return of Female Genital Mutilation!
A high court will hear a case filed by medical doctor Tatu Kamau against the banning of female genital mutilation, arguing that the procedure should be allowed under medical supervision. The practice has been outlawed since 2011.
Kenya: Outlaw FGM, As It Has No Health Benefits

Nation, 7 February 2018

This week, the United Nations is leading the world in commemorating the International Day of Zero Tolerance for Female Genital Mutilation, which is marked annually on February 6. Read more »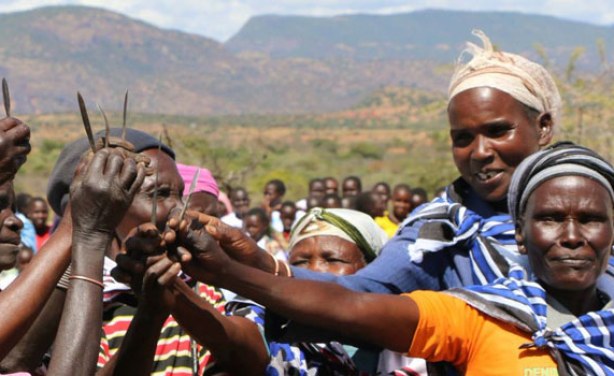 FGM cutters down their tools and renounce the harmful practice in West Pokot County.
Kenya: My Story Painful But Must Be Told - Tale of Teen Who Underwent FGM While Pregnant

Capital FM, 6 February 2018

"Efforts to stop the bleeding proved futile. I lost my unconsciousness... " the memories of the fateful day are still raw in Halima's (not her real name) mind, and though they are… Read more »

Kenya: Could FGM Make a Comeback in Kenya As a Doctor Takes to Court?

Deutsche Welle, 5 February 2018

Many African countries have made great strides in tackling Female Genital Mutilation/Cutting. Kenya, however, has seen a backlash as a doctor pushes for continuing the practice as… Read more »

Kenya: Female Genital Mutilation Is Not About Adults and Their Freedoms

Nation, 23 January 2018

This year, much like 2017 and the years and years before then, is not proving to have started out as a particularly great year for women. Read more »

Kenya: Doctor Goes to Court to Legalise Female Genital Mutilation

Thomson Reuters Foundation, 19 January 2018

"I think that even for the decision of female circumcision, a woman can make that decision. And once she has made that decision, she should be able to access the best medical care… Read more »

Kenya: Why This Doctor Wants Girls Allowed to Undergo Female Cut

Nairobi News, 17 January 2018

A medical doctor has filed a case in Machakos High Court seeking to have Female Genital Mutilation (FGM) legalised. Read more »