Concerns Over Kenya President's Cabinet Nominees
Letters and an affidavit sent to the committee responsible for the appointment of the National Assembly have raised concerns on the integrity, level of education and past records of cabinet secretary nominees. If proven true, the nominees may find they would be ineligible to serve, writes the Nation.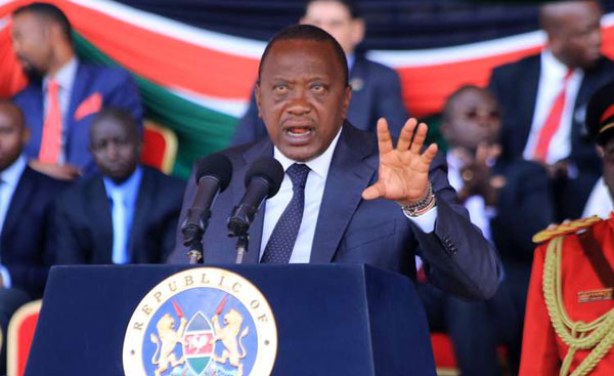 President Uhuru Kenyatta.
Kenya: Kenyatta Faulted for Leaving Mijikendas Out of Cabinet

Nation, 6 February 2018

A section of politicians from Coast region have criticised President Uhuru Kenyatta for leaving the Mijikenda community out of his Cabinet. Read more »

Kenya: Kenyatta Retains Energy, Finance, and Transport Ministers

EA Business, 5 February 2018

Prior to Odinga's 'inauguration', on 26 January, President Uhuru Kenyatta finalised a major cabinet reshuffle. This confirmed Kenyatta's initial statement on 8 January that the… Read more »

Kenya: Public Urged to Participate in Cabinet Nominees Vetting

Capital FM, 31 January 2018

The National Assembly is seeking public views on the nine new Cabinet nominees even as the vetting process is set to take place from Thursday next week. Read more »

Kenya: Uhuru's New Cabinet Reflects the Face of Kenya, Imams Say

Nation, 28 January 2018

The Council of Imams and Preachers of Kenya (CIPK) has urged leaders and citizens to strive for unity in the wake of President Uhuru Kenyatta's cabinet appointments. Read more »

Kenya: Six Women Make President Kenyatta's Cabinet List

Nairobi News, 27 January 2018

Six women are among the Cabinet Secretaries named by President Uhuru Kenyatta in his new appointments on Friday. Read more »

Kenya: Muturi Says Yet to Receive Names of 3 Cabinet Nominees

Capital FM, 25 January 2018

National Assembly Speaker Justin Muturi says he is yet to receive names of three Cabinet nominees to kick start their vetting process. Read more »
InFocus
President Uhuru Kenyatta has sent packing more than half of his Cabinet. The president only announced names of those he has retained and some of those he has nominated. All the ... Read more »