Mining Indaba - Bosses Told to Change Attitudes
Mining Indaba, being held in South Africa, that attracts stakeholders from around the world, has seen the focus on mining bosses, but also on the safety aspects of mining and the development of new equipment that would make mineral extraction easier. Countries like Zimbabwe are also using the platform to attract investors to their domestic mining sector. Meanwhile, South Africa's Mining Minister Mosebenzi Zwane keeps mum on the controversial mining charter for black ownership in mines, which was proposed, then put on hold.
Africa: Mine Bosses Told: Change Your Attitudes

Alternative Mining Indaba, 6 February 2018

A leading non-government organisation today told mining bosses at the African Mining Indaba to change their attitudes and shift their mind-sets and defensiveness. Read more »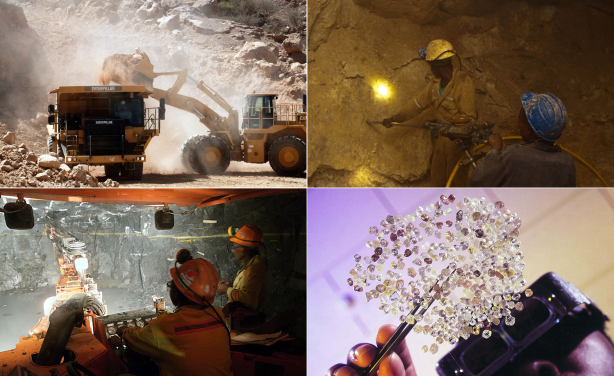 (file photo).
South Africa: Mining Indaba - Zwane Puts Brave Face On Ongoing Conflict

Daily Maverick, 6 February 2018

Tensions in the South African mining industry? What tensions? This was the outlook presented by Mineral Resources Minister Mosebenzi Zwane on Monday at the beginning of the 2018… Read more »

Zimbabwe: Mining Sector Set to Benefit Immensely

The Herald, 6 February 2018

Zimbabwe's mining sector is expected to benefit immensely from renewed optimism and bring hundreds of millions of dollars in the coming few years on account of the new political… Read more »

Zimbabwe: Good News for Economy

The Herald, 6 February 2018

Gold, nickel, copper and zinc are seen as major sources of value for investors in Africa and the world in the medium to long term. This should be good news to Zimbabwe's… Read more »

South Africa: Csir Showcases Tech for Mining Safety

SAnews.gov.za, 4 February 2018

The Council for Scientific and Industrial Research (CSIR) will showcase some of the latest technologies to improve safety in the mining sector. Read more »

Zimbabwe: Zimbabwe to Entice Investors At Mining Indaba

CAJ News, 1 February 2018

THE upcoming Mining Indaba in South Africa will present a platform for the new administration in Zimbabwe to attract investments into the country. Read more »

South Africa: Minister Jeff Radebe - 2018 Mining Indaba

Govt of SA, 4 February 2018

Opening address by the Honourable Jeff Radebe, MP, Minister in the Presidency for Planning, Monitoring and Evaluation; at the Mining Indaba Ministerial Symposium; Westin Hotel… Read more »

South Africa: Ministers Mosebenzi Zwane and Rob Davies Lead Team SA At Mining Indaba 2018

Govt of SA, 6 February 2018

SA Government continues to promote mining investment at the Mining Indaba 2018 Read more »

Africa: Impartial Facilitators Will Help Solve Intractable Conflicts in Mining

, 6 February 2018

Participation in an independent problem-solving service will help solve intractable conflicts of interest around the mining industry. Read more »

Africa: Mining Legislation in Africa Gone Back to Colonial Days

, 5 February 2018

Mining in Africa has reverted to the pre-independence days of colonialism in which legal regimes exist primarily to facilitate profit for mine owners, according to Dr Yao Graham,… Read more »
InFocus
The gazetting of the mining charter will be used to drive growth and transformation, after President Jacob Zuma called for the state to use all its regulatory tools to implement ... Read more »