How Closure of TV Stations Narrowed Kenya's Democratic Space
The closure of three leading television stations on January 30 to stop the live broadcast of the "swearing-in" of National Super Alliance leader, Raila Odinga, as the "people's president" points to the kind of political repression that does not auger well for democracy. By doing it, the government rolled back much of the democratic space that Kenyans fought so hard to achieve, writes George W. Gathigi for The Conversation.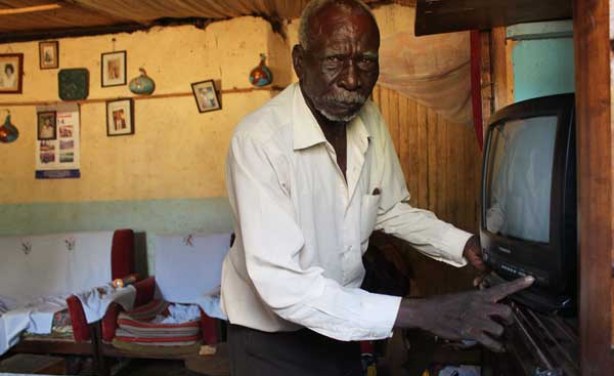 Mzee Benjamin Nyangasi switches off his TV set which can no longer receive any signal after the government shut down analogue broadcasts.
Kenya: State Must Follow Law in Crackdown

Nation, 7 February 2018

The government is sending the wrong signal when it decides which laws and court orders to obey and which ones to ignore. In a democracy, adherence to the rule of law and respect… Read more »

Kenya: Government Crackdown Threatens Rights

HRW, 7 February 2018

Human rights groups have been concerned since President Uhuru Kenyatta took power in 2013 at the authoritarian direction Kenya's government has been taking. But the situation… Read more »
InFocus
NTV and KTN News have resumed normal programming after the Communication Authority of Kenya finally complied with a court order that they be allowed back on air. Citizen TV and ... Read more »

The closure of three major TV stations for the the live broadcast of the "swearing-in" of opposition National Super Alliance leader Raila Odinga as the people's president, has ... Read more »

The United States has accused the government of intimidating and restricting the media. This follows the closure of three major TV stations for the the live broadcast of the ... Read more »