Zimbabwe's Tsvangirai Denies He's Critically Ill
Zimbabwe's main opposition party the Movement for Democratic Change says their party leader Morgan Tsvangirai is recovering well in a Johannesburg hospital and "will be back home soon to prepare for elections". This follows widespread reports that he is in a critical condition, with some urging the world to "brace for the worst". Tsvangirai also dismissed the rumors using his Twitter account.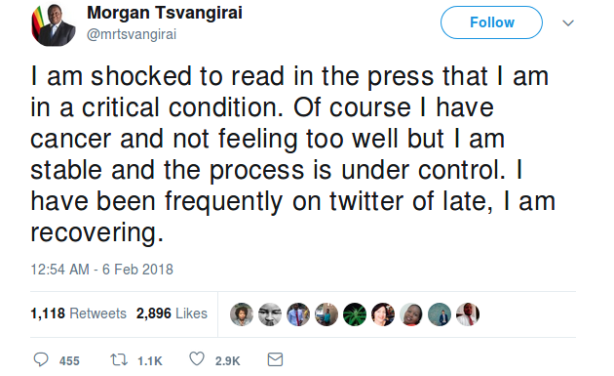 MDC-T leader Morgan Tsvangirai tweets.
Zimbabwe: I'm Recovering - Tsvangirai

263Chat, 6 February 2018

Zimbabwe's main opposition leader, Morgan Tsvangirai has poured cold water on rumors circulating in the media that he is critically ill ,saying he is stable and the process is… Read more »
InFocus
Responding to reports that he's battling for his life in South Africa, with his doctors having indicated that he had three months to live, Morgan Tsvangirai has taken to his ... Read more »

Opposition MDC-T leader Morgan Tsvangirai has for the first time hinted he might retire. In a statement, Tsvangirai said he was seriously thinking about his future and the ... Read more »