Warm Canadian Welcome for Deported Kenyan Lawyer Miguna
Miguna Miguna who said he will return home from Canada, has denied claims that he renounced his Kenyan roots to acquire Canadian citizenship. Miguna was arrested and deported for participating in the swearing-in of "People's President" Raila Odinga at Uhuru Park on January 30.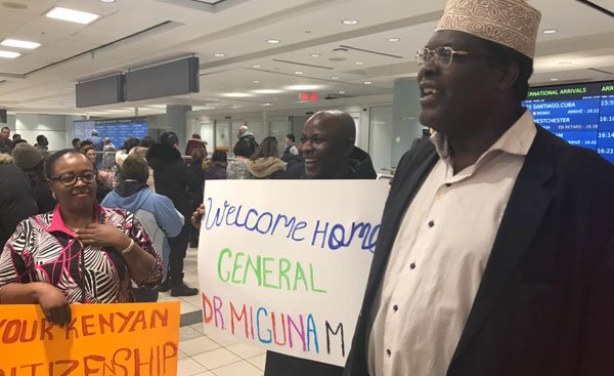 Miguna Miguna when he arrived in Toronto, Canada.
Kenya: I Will Be Back - Miguna

Nairobi News, 7 February 2018

Defiant Nasa activist Miguna Miguna informed his relatives on Tuesday that he would return to the country before long, in a text message he sent before he was whisked away onto a… Read more »

Kenya: 'Proof' of Matiang'i's Authorization of Miguna's Deportation Goes Viral

Nairobi News, 7 February 2018

A document implicating Interior Cabinet Secretary Fred Matiang'i in the controversial deportation of lawyer Miguna Miguna has emerged online. Read more »

Kenya: Miguna's Relatives Outraged By Deportation

Nairobi News, 7 February 2018

Family members of the self-proclaimed National Resistance Movement (NRM) "general" Miguna Miguna have reacted angrily to the government's decision to deport him to Canada. Read more »

Kenya: Miguna - I Was Starved and Made to Stand for 24 Hours in Cells

Nairobi News, 7 February 2018

Miguna Miguna has recounted his five-day ordeal in police custody, revealing how he was nearly starved by his captors. Read more »

Kenya: Kenyan or Canadian? Mystery of Miguna Miguna's Citizenship

Nairobi News, 7 February 2018

A 2010 interview with former Immigration Minister the late Otieno Kajwang on the citizenship of Miguna Miguna has been thrown into the center of the latter's 'deportation' saga. Read more »

Kenya: Government - Why We Ejected Miguna From Kenya

Nairobi News, 7 February 2018

Self-declared National Resistance Movement "general" Miguna Miguna was illegally issued with a Kenyan passport in 2009, the government has said. Read more »

Kenya: Miguna Fires At Matiangi From Amsterdam - You Haven't Seen the Last of Me!

Capital FM, 7 February 2018

On transit to Canada, the self-styled 'General' of the National Resistance Movement, Miguna Miguna, on Wednesday responded to claims by the Interior Ministry that he had renounced… Read more »

Kenya: Miguna Denounced Kenyan Citizenship - Matiangi

Capital FM, 7 February 2018

The government now says it deported Miguna Miguna because he denounced his nationality as a Kenyan citizen. Read more »

Kenya: Charge Sheet Had Listed Miguna as 'Kenyan' Hours to Deportation

Nairobi News, 7 February 2018

The Kenya Police had listed Nasa activist Miguna Miguna as "Kenyan" hours before he was ejected from the country on claims that he had denounced his citizenship. Read more »

Kenya: How Come Miguna Was Cleared to Vie? Kenyans Ask After Citizenship Storm

Nairobi News, 7 February 2018

Kenyans have camped on social media questioning why deported Nasa activist Miguna Miguna was cleared to vie for Nairobi governor's seat if he was not a Kenyan. Read more »

Kenya: They Treated Me Like a Beast, Miguna Says of 5 Days in Detention

Capital FM, 7 February 2018

Miguna Miguna had eight minutes to explain his ordeal as a guest of the Kenyan State to a BBC journalist at Amsterdam International Airport, en-route to Canada through a phone… Read more »

Kenya: The Plot Behind Miguna's Deportation

Nation, 7 February 2018

The deportation of self-declared National Resistance Movement "general" Miguna Miguna was crafted and executed while unsuspecting supporters and lawyers waited for him at the… Read more »
InFocus
Security sources and Miguna Miguna's lawyers have confirmed that he was forced to board a flight to Canada after refusing to plead in a Kajiado court for charges related to the ... Read more »

Lawyer Miguna Miguna has appeared ath the Kajiado Law Court where he refused to enter a plea. High Court Judge Luka Kimaru is set to deliver a ruling on issues raised over his ... Read more »

Kenyan authorities are denying that they have attorney Miguna Miguna in custody. He was allegedly arrested for participating in the swearing-in of "People's President" Raila Odinga ... Read more »