Ugandan Speaker Orders Audit of Treasury Over Controversial Loan
The Speaker of Parliament Rebecca Kadaga has asked for a special audit of Treasury accounts to establish how and where U.S.$200 million was spent, after a parliamentary report that said Finance Minister Matia Kasaija should be censured. Kadaga said parliament needed to understand a controversial loan procured by the ministry to fund the National Medical Stores but which was later diverted for other purposes.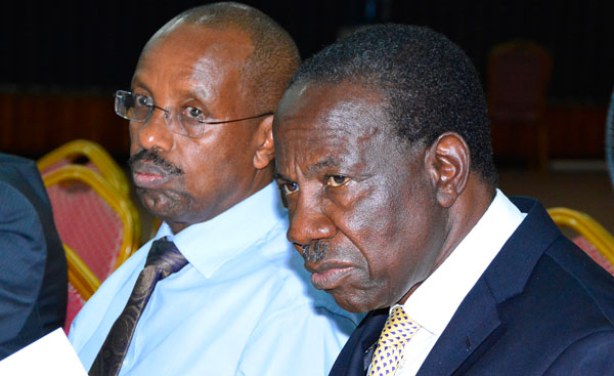 Secretary to the Treasury Keith Muhakanizi, left, and Finance Minister Matia Kasaija appear before Parliament's Public Accounts Committee last year.
Uganda: Kadaga Blocks Kasaija Censure Motion

Independent (Kampala), 8 February 2018

The Speaker of Parliament Rebecca Alitwala Kadaga has directed the Auditor General John Muwanga to conduct a special audit into the account of the Treasury, to establish how and… Read more »

Uganda: MPs Plot to Censure Kasaija Over Shs700b

Monitor, 7 February 2018

Finance minister Matia Kasaija and Secretary to Treasury Keith Muhakanizi were last evening left on the brink of losing their jobs with Members of Parliament divided over their… Read more »