Ethiopian Journalist Eskinder Refuses 'Strings Attached' Pardon
Eskinder Nega Fenta an acclaimed journalist and blogger who was jailed for 18 years for his work, was among 746 who received a presidential pardon. However after refusing to sign a form that falsely stated he was a member of Ginbot 7, an organisation that the government deems a terrorist group, he was returned to his cell, his wife Serkalem Fasil said.
InFocus
"... the world must not lose sight of the thousands of other people still languishing in jail on trumped-up and politically-motivated terrorism charges, including Bekele Gerba, ... Read more »

Eskinder Nega Fenta, Reeyot Alemu Gobebo, Woubshet Taye Abebe and Mesfin Negash have received the prestigious Hellman/Hammett award for 2012 in recognition of their efforts to ... Read more »

Human rights and press freedom organisations have come out against the sentencing of 6 Ethiopian journalists - including Eskinder Nega, a prominent journalist and blogger for ... Read more »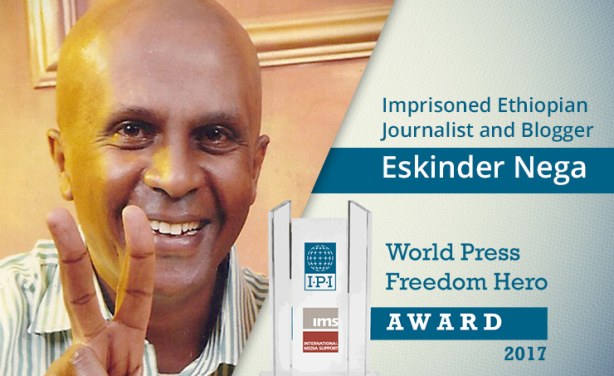 Ethiopian journalist and blogger Eskinder Nega.