Hostile Neighbours Botswana, Zimbabwe Fix Ruined Relations
The frosty relations between Zimbabwe and Botswana are reportedly on the mend following a closed-door meeting between President Emmerson Mnangagwa and Botswana President Ian Khama in Gaborone. The two countries have had sour relations for years as Khama had been one of the fiercest critics of former president Robert Mugabe. In his autobiography, former president of Botswana Sir Ketumile Masire also exposed difficulties he had in working with Mugabe.
Southern Africa: Khama, Mnangagwa Fix Ruined Relations

CAJ News, 13 February 2018

Zimbabwe and Botswana have set in motion processes poised to mend relations strained by the former's tainted human rights record under the leadership of the now deposed president,… Read more »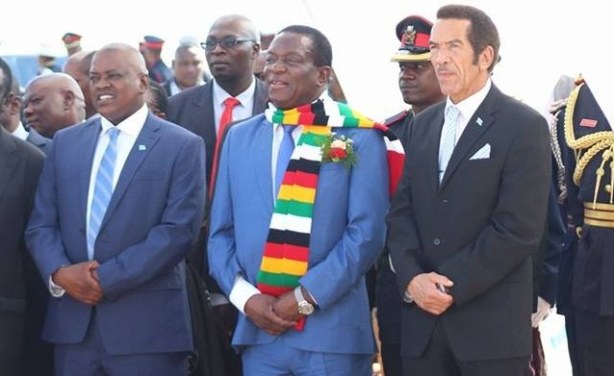 Presidents Emmerson Mnangagwa, Ian Khama and other dignitaries enjoy a performance by traditional dancers in Botswana.
InFocus
Former president Sir Ketumile Masire said although President Robert Mugabe could be a "difficult customer", he could also be "very sweet". Read more »