Prophet TB Joshua To Make Private Visit to Zimbabwean President
TB Joshua is expected in Zimbabwe for a "courtesy call" visit to President Emmerson Mnangagwa. The controversial prophet is known across Africa and is famed in Zimbabwe for "foretelling" the military takeover which dethroned former president Robert Mugabe and ushering in Mnangagwa.
Zimbabwe: Nigerian TB Joshua to Visit Mnangagwa

263Chat, 14 February 2018

Popular Nigerian Televangelist and leader of The Synagogue, Church Of All Nations (SCOAN) ,Temitope Balogun Joshua commonly known as TB Joshua is coming to Zimbabwe in the "coming… Read more »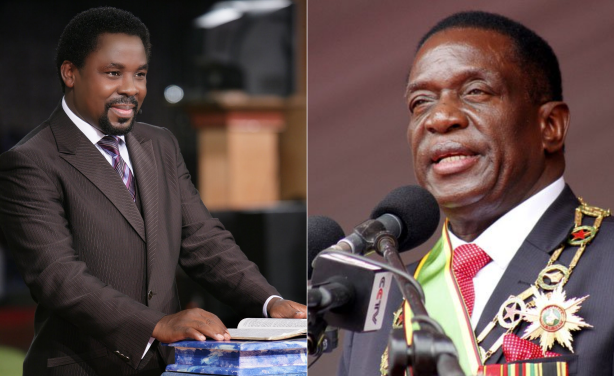 TB Joshua coming to Zimbabwe.
Zimbabwe: Mnangagwa Invites Prophet TB Joshua

Vanguard, 14 February 2018

Internationally acclaimed prophet, Temitope Balogun Joshua, widely known as TB Joshua is expected in Zimbabwe for a presidential visit in a few days. Read more »
InFocus
A video showing prophet T.B.Joshua saying there will be a military coup in an unnamed country in Southern Africa has been circulating like wildfire on social media in Zimbabwe. ... Read more »