Ethiopia Government Said to Declare State of Emergency - Again
Ethiopia's Council of Ministers "has declared a state of emergency", @AddisStandard says in a Tweet on Friday, citing a report on the state broadcaster EBC. "After nearly 7 hrs waiting, local journalists who were called in to attend a presser from the Council of Ministers have been told to go home and attend the presser by Defense Minister Siraj Fegessa tomorrow morning at 9: 00 AM local time," the newspaper said in another Tweet.
Ethiopia: 3-Month State of Emergency 'Starts Today'

Addis Standard, 16 February 2018

The Council of ministers is set to declare a state of emergency for three months as of this morning, a source close to the government told Addis Standard. The military will be in… Read more »

Ethiopia: Govt to Declare Emergency After PM Resigns?

Addis Standard, 15 February 2018

Ethiopia's Prime Minister Hailemariam Desalegn said he has submitted a letter requesting to resign from his role as Prime Minister and Chairman of Ethiopia's ruling party EPRDF. Read more »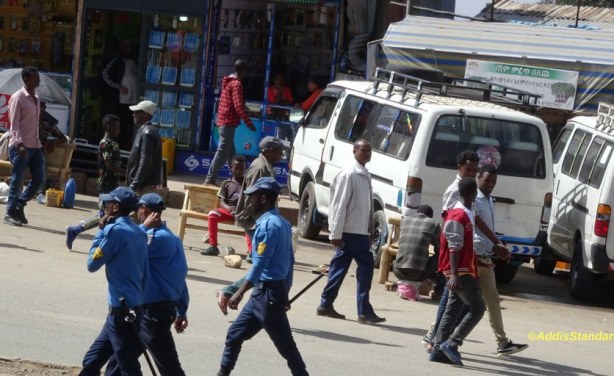 Protestd in Addis Ababa (file photo).
InFocus
Ethiopian Prime Minister Hailemariam Desalegn has submitted his resignation as both premier and the chairman of the ruling coalition. His government has faced a crisis of ... Read more »

Business, schools and transport to and from Lege T'afo on the eastern outskirt of Addis Abeba is disrupted as the stay-at-home protest in Oromia enters its second day. Read more »