Dear Cyril - Advice for South Africa's Rulers
Writers for AllAfrica's partner publishers have advice for Cyril Ramaphosa and reflect on the implications of the change in power in the ruling African National Congress.
South Africa: An Open Letter to President Ramaphosa

The Journalist, 30 January 2018

Zubeida Jaffer writes an open letter to newly elected president of the African National Congress, Cyril Ramaphosa on the opening of parliament, Zuma 'sitting tight', the Steinhoff… Read more »

South Africa: The Ramaphosa Moment - How Many Messiahs Can One Country Take?

The Conversation Africa, 15 February 2018

Matamela Cyril Ramaphosa - forgive me, President Ramaphosa - is self-evidently a private and reserved human being. Read more »

South Africa: Inheriting a Divided ANC

Democracy Works, 14 February 2018

Once Jacob Zuma finally steps down, Cyril Ramaphosa will inherit a deeply divided African National Congress (ANC) which many supporters have abandoned, a public service crippled by… Read more »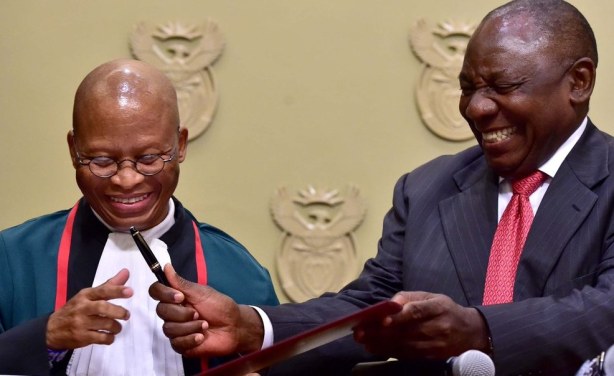 President Cyril Ramaphosa hands a pen to Chief Justice Mogoeng Mogoeng after being sworn in at a ceremony in Cape Town Thursday.
South Africa: South Africa's Lost Decade

Deutsche Welle, 15 February 2018

For many South Africans, Jacob Zuma's resignation was like a belated Valentine's Day present. But his successor Cyril Ramaphosa faces enormous challenges, says DW's Claus… Read more »

South Africa: Ramaphosa Must Get Down to Business Right Away

Deutsche Welle, 13 February 2018

Jacob Zuma's time as president is running out. His party has officially asked him to step down. But his departure will leave his likely successor Cyril Ramaphosa with a wealth of… Read more »

South Africa: Zuma's Fall - Rule of Law Holds Firm in Victory for African Democracy

The Conversation Africa, 14 February 2018

The Zuma years are over. He kept fighting almost to the very end. But South Africa's scandal-ridden President Jacob Zuma finally accepted the inevitability of his political fate… Read more »

South Africa: Zuma Era Lessons - How Democracies Can Be Held Hostage

The Conversation Africa, 15 February 2018

Jacob Zuma's late night announcement that he would step down as president of South Africa followed days of tense negotiations within the governing African National Congress (ANC).… Read more »

South Africa: Is the ANC Committing Suicide?

Daily Maverick, 14 February 2018

The current ANC leadership seem to forget they are supposed to serve the people and not think - or appear to think - that they own them. Or South Africa. Read more »

South Africa: Does South Africa Have a Zuma Problem - or an ANC Problem?

Daily Maverick, 14 February 2018

To the great relief of most South Africans, Cyril Ramaphosa emerged victorious in a very tight-run battle for the presidency of the ANC. Of course, there are widely divergent views… Read more »

Zambia: Political Commentator Draws Parallels for Zambia in Zuma Fall

Zambia Reports, 14 February 2018

Political commentator Laura Miti has advised President Edgar Lungu to learn from the fall of South African President Jacob Zuma. Read more »

South Africa: Who Is Cyril Ramaphosa?

allAfrica, 4 December 2017

This interview was first published before Ramaphosa was elected president of his party, and of the country. Read more »
InFocus
Cyril Ramaphosa, 65, has been elected as President of South Africa, in a ceremony presided over by Chief Justice Mogoeng Mogoeng in the National Assembly in Cape Town. Read more »

President Jacob Zuma has resigned after his party, the African National Congress, recalled him, and said he should resign or face a motion of no confidence in Parliament on ... Read more »