TB Joshua Fails to Meet Zimbabwe President Mnangagwa
The official explanation from Zimbabwe's Information, Media and Broadcasting Services Minister Simon Khaya Moyo is that President Emmerson Mnangagwa could not meet Nigerian televangelist TB Joshua because he had other commitments. Moyo says government wasn't aware of the cleric's invitation and reports that Mnangagwa snubbed him were misleading.
Zimbabwe: TB Joshua Fails to Meet Mnangagwa

Zimbabwe Standard, 18 February 2018

Popular Nigerian preacher Temitope Balogun Joshua (TB Joshua) left Harare on Friday night after failing to meet President Emmerson Mnangagwa under unclear circumstances. Read more »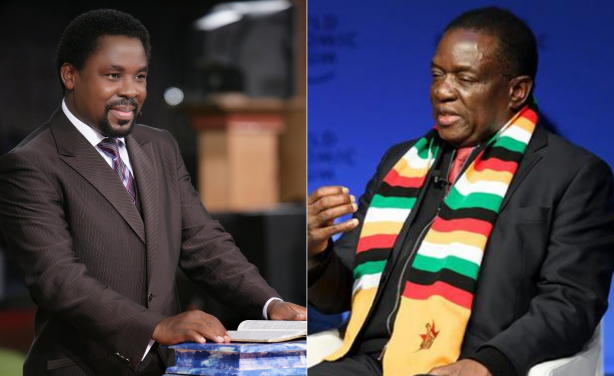 Prophet TB Joshua and President Emmerson Mnangagwa (file photo).
InFocus
TB Joshua is expected in Zimbabwe for a "courtesy call" visit to President Emmerson Mnangagwa. The controversial prophet is known across Africa and is famed in Zimbabwe for ... Read more »