Kenyan MP Keter Caught Up in Decades-Old Scandal
According to Central Bank of Kenya Deputy Director in charge of Communications, Wallace Kantai, Nandi Hills member of parliament, Alfred Keter, alongside two other people, presented a set of forged treasury bills worth over U.S.$6 million which were purportedly issued by the CBK a number in the 1990s. The three have pleaded not guilty to charges of conspiracy to defraud, making a false document, forgery and uttering a false document.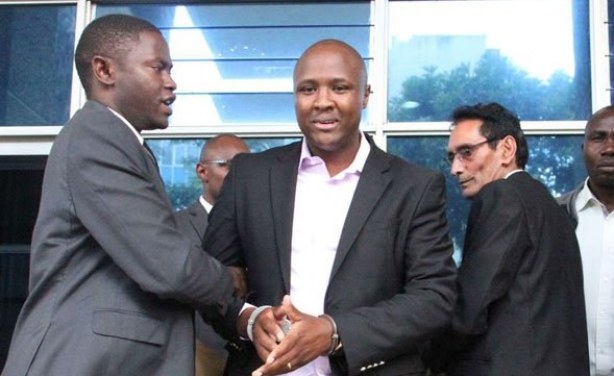 Nandi Hills MP Alfred Keter is arrested by a Banking Fraud Investigations Unit detective at the Central Bank of Kenya on February 16, 2018 over fake Treasury Bills.
Kenya: CBK's Story Doesn't Add Up, MPs Say of Keter's Arrest

Capital FM, 18 February 2018

Cherangany MP Joshua Kutuny has come to the defence of his Nandi Hills counterpart Alfred Keter who will remain in police custody over the weekend for presenting fake Treasury… Read more »

Kenya: Alfred Keter Records Statement Over Treasury Bills Fraud

Nation, 18 February 2018

Nandi Hills MP Alfred Keter on Sunday recorded a statement at the Directorate of Criminal Investigations as the puzzle over his role in the alleged Sh633 million Treasury Bills… Read more »

Kenya: Here Are the Six Episodes of Alfred Keter's Action Drama Series

Nairobi News, 18 February 2018

Controversy seems to stalk Nandi Hills Legislator Alfred Keter everywhere he heads to. Read more »

Kenya: MP Alfred Keter Being Held At Muthaiga Station, Yet to Record Statement

Nairobi News, 18 February 2018

Details of the intrigues that led to the arrest of Nandi Hills MP Alfred Keter and two other people on Friday have emerged even as the vocal legislator remained in police custody… Read more »

Kenya: I Was Arrested in the Process of Trying to Protect the Public's Interests - Keter

Capital FM, 18 February 2018

Nandi Hills MP Alfred Keter has denied allegations that he presented forged Treasury Bills worth Sh633 million to the Central Bank of Kenya (CBK). Read more »

Kenya: KoT Read Politics in Alfred Keter's Arrest at Central Bank

Nairobi News, 16 February 2018

The Kenyan online community has attributed politics to Friday's arrest of Nandi Hills MP Alfred Keter at Central Bank of Kenya (CBK) headquarters. Read more »

Kenya: MP Alfred Keter Arrested at Central Bank Over 'Sh633 Million Forged Treasury Bills'

Nairobi News, 16 February 2018

Nandi Hills MP Alfred Keter was on Friday morning arrested at Central Bank of Kenya headquarters in Nairobi. Read more »

Kenya: MP Alfred Keter, 2 Others Arrested Over Forgery Claims

Nation, 16 February 2018

Nandi Hills MP Alfred Keter and two other individuals have been arrested for allegedly forging Treasury Bills worth Sh633 million. Read more »