Party Struggles, Suicide Threats Before Tsvangirai's Funeral
Zimbabwe's opposition leader Morgan Tsvangirai is set to be laid to rest in his rural home village of Buhera. Tsvangirai has been given a state-assisted funeral which means his South African medical costs, as well as those for burial at his rural home, Buhera, will be met by the state.
InFocus
The mother of the late Zimbabwe opposition leader Morgan Tsvangirai has threatened to commit suicide if the newly elected MDC-T leader Nelson Chamisa played any role in ... Read more »
Zimbabwe: Tsvangirai's Mother, Wife in More Drama

New Zimbabwe, 20 February 2018

There was more family drama Monday as supporters continued to pay their respects to MDC-T leader Morgan Tsvangirai who succumbed to colon cancer in South Africa last week. Read more »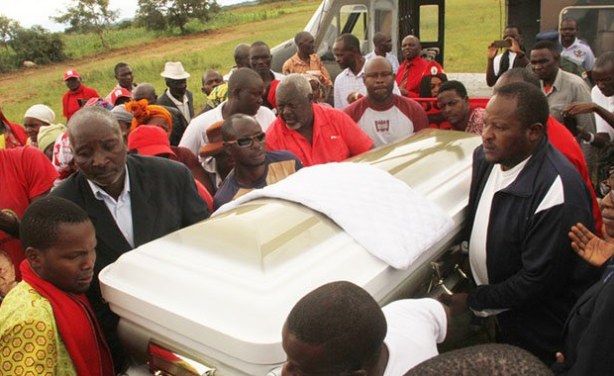 Pallbearers carry the casket bearing the body of former Prime Minister and MDC-T leader Morgan Tsvangirai at Makanda Primary School, Humanikwa Village, in Buhera.
Video
Author:

SABC Digital News

Publisher:

Publication Date:

19 February 2018

Zimbabwe opposition MDC-T interim leader Nelson Chamisa has appealed for tolerance as the party bids farewell to its late founder Morgan Tsvangirai. ... see more »
InFocus
President Emmerson Mnangagwa has assured the family of MDC-T leader Morgan Tsvangirai that the government will fulfil pledges made to the politician. "He gave me a list of things ... Read more »

MDC-T leader Morgan Tsvangirai, who died after a long battle with colon cancer, will be laid to rest in Buhera district next Tuesday. Read more »