How Does Namibian Army Spend So Big, Yet So Broke?
Defence Minister Penda ya Ndakolo has reportedly admitted that he did not inform President Hage Geingob about the military's decision to purchase a U.S.$3,8 million farm. The purchase was made three weeks after the ministry announced that thousands of troops will be sent on leave because there was no money to feed them.
Namibia: Ya Ndakolo Downplays Farm Criticism

Namibian, 22 February 2018

Defence minister Penda ya Ndakolo downplayed concerns that the decision to buy a N$45 million farm for the military was unprocedural, claiming that it was a cheaper offer. Read more »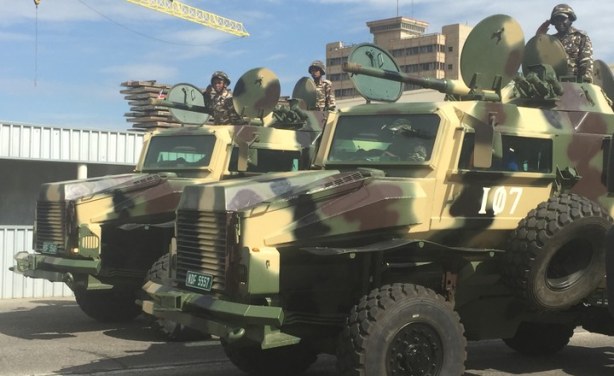 Namibian army (file photo).
Namibia: Minister Explains U.S.$3,8 Million Farm Purchase

New Era, 22 February 2018

Defence Minister Penda ya Ndakolo admitted to fellow lawmakers in the National Assembly this week that he did not inform President Hage Geingob, who doubles as commander-in-chief… Read more »

Namibia: Ya Ndakolo Clarifies Sending Soldiers Home

New Era, 22 February 2018

The Minister of Defence Penda ya Ndakolo says the ministry did not send 1,000 soldiers home because it cannot feed them, but rather as an exercise to mitigate the current financial… Read more »

Namibia: Geingob Irked By U.S.$3.7 Million Spent to Buy Farm

New Era, 9 February 2018

President Hage Geingob has expressed his dismay at the Ministry of Defence spending about N$45 million to acquire the luxury farm Oropoko, which will be used to train elite… Read more »

Namibia: Defence Ministry Buys Farm

Namibian, 8 February 2018

The defence ministry has spent about N$45 million to acquire a farm that will be used to train soldiers to live in harmony with wildlife, and to practise 'perfect shooting skills',… Read more »
InFocus
Thousands of Namibian troops will be sent on leave next month because the army has run out of money to feed them or to pay water and electricity bills at seven military bases, the ... Read more »